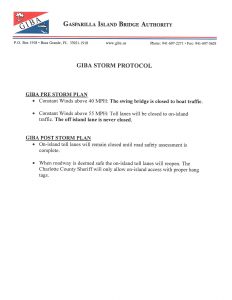 ■ BY MARCY SHORTUSE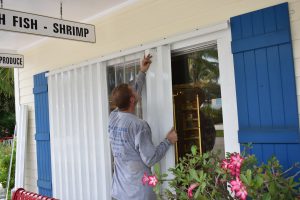 Boca Grande Fire Chief C.W. Blosser addressed a very crowded room on Wednesday, Sept. 6 at 2 p.m. Each person in attendance was a piece in the Emergency Operations Center puzzle for our island, and Blosser briefed them regarding plans for our particular community. As of that meeting, tropical storm winds are still expected to pummel the island, and rain is expected, possibly up to five inches, so the possibility of having to perform cleanup after Irma is quite good.
As of Wednesday night our EOC stood at level 2 activation in the center, even though the eye of the storm is not projected to hit us. Blosser said that luckily, most of the areas that received so much rain last week are starting to drain, and that sand for sandbags is available at the Wheeler Road ballfield.
The Boca Grande Health Clinic reported they are stocked up on tetanus vaccines, which are often in high demand during hurricane cleanup. Head-of-School Jean Thompson reported that The Island School will be closed on Thursday and Friday, and school on Monday will be determined as the weekend progresses. Kevin Kelley and Harold Bowe, both excavating contractors from the island, reported they were on standby and ready with heavy machinery, should the need arise for them during cleanup efforts, and Gasparilla Island Water Association Director Bonnie Pringle said that everything has been storm-prepped at her facility. Lee County Mosquito Control Director Clyde Nabers said all helicopters have been put away in their hangars until after the storm passes, and Barrier Island Parks Society Director Sharon McKenzie said all artifacts from the museum have been put away in a safe place.
The biggest news from the meeting was from the Gasparilla Island Bridge Authority. Director Kathy Banson-Verrico reported that the bridge would be locked down and no openings for boats would occur until it was safe to do so if constant winds above 40 mph were present. This means that until the storm has passed us and the bridge has been inspected for safety, no boats will be able to pass.
In the event constant winds above 55 mph are present, the toll booth gates will be shut until after the storm passes and it has been deemed safe to return to the island. All traffic leaving the island will be unimpeded at all times.
The Charlotte County Sheriff's Office will provide personnel to man the toll booths in the event the island sustains significant damage. Blosser said only people with hurricane hang tags will be allowed back on once the island has been deemed safe for travel, with the exception of essential cleanup personnel who will be allowed back on the island.
Areas of most concern for flooding on the island include Belcher Road and the south end of Gulf Boulevard, the 5800 block of Gasparilla Road (near Boca Grande Resort), 1st Street and Gulf Boulevard, and Gasparilla Road and Grouper Hole at the county line. These areas flood during routine thunderstorms, so use extreme caution and drive slowly through those areas if standing water is present. If you have a low-to-the-ground vehicle, it is best to not chance it.
For the most current information, go to Facebook.com/bocabeacon