To the Editor: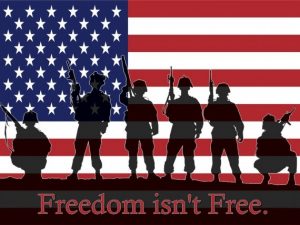 Kevin Hagan, president of Englewood Bank & Trust, announced that the bank will serve as a collection point for nonperishable food items and toiletries for the Rotary Club of Englewood's Food for the Troops drive through the month of May.
Those wishing to support our troops may donate at any of the bank's four offices during regular business hours, located at 1111 S. McCall Road, Englewood; 8725 Placida Road, Cape Haze; 301 Park Avenue, Boca Grande; and 12651 S. McCall Road, Gulf Cove.
For more information, contact the bank at (941) 475-6771. Visit englewoodbankandtrust.com for a printable list of items.
Troops are in special need of the following items:
• Instant cocoa, coffee, Gatorade, tea, Crystal Light
• Tuna (pouches – no cans), Ramen packs and cups
• Microwavable mac & cheese, soups
• Cooking spices, salad dressing (no glass)
• Beef jerky, nuts, trail mix, granola, protein bars
• Pop tarts, instant oatmeal, crackers, cookies
• Rice Krispies treats, gum, candy (no chocolate)
• Hand-held games, cards, nerf footballs
• Deodorant, disposable razors, aspirin, chapstick
• Shampoo, eye drops, individual tissues
• Individually wrapped toilet paper, medicated foot powder
• Moleskins, crosswords, sudoku
• Batteries (AA, AAA ,D)
Englewood Bank & Trust has four locations in the Englewood-Cape Haze area, including the Englewood office, 1111 S. McCall Road, Englewood; Cape Haze office, 8725 Placida Rd #10, Placida; Gulf Cove office, 12651 S. McCall Road, Port Charlotte; Boca Grande office, 301 Park Ave, Boca Grande; plus the Venice Loan Office, 341 W. Miami Avenue, Venice.
Melissa Laterza
Marketing Coordinator Englewood Bank & Trust