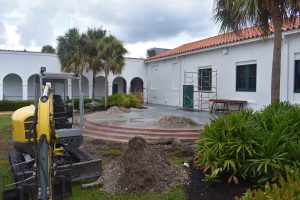 ■ BY MARCY SHORTUSE
Work has begun on the new outdoor stage at the Boca Grande Community Center, and the project, which will include a sunshade, will optimistically be done by the end of October.
Funding for the project was procured through two fundraising concerts given by Lynda Jamison in February of 2016, and the Friends of the Boca Grande Community Center organization made up the rest of the cost – which is just under $250,000.
Friends' Executive Director Marta Howell said she is excited for everyone to see the new addition to the Community Center when it is complete, and she predicts its uses will be many and varied.
"We think there will be lots of uses for the structure," she said. "This sunshade will make all of the outdoor programs at the Community Center so much better! The Dog Show, The Gasparilla Island Kids Classic Tarpon Tournament, The Halloween Carnival, The Spring Festival, outdoor  concerts, and so much more!
"Thank you to Lynda Jamison for spearheading the fundraising efforts, and to all of the generous donors to Friends of Boca Grande Community Center who together made this possible."