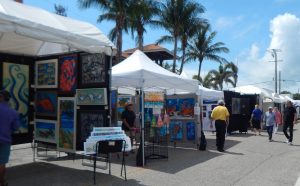 To the Editor:
Tarpon season is here, the great fish are biting, and excitement is building in Boca Grande Pass for the 36th annual World's Richest Tarpon Tournament, a long-standing island tradition. Make sure to stop by the 2018 Tarpon Festival, which is held each year in beautiful downtown Boca Grande to celebrate the return of the fish to Boca Grande Pass and the beginning of tarpon season.
This year's festival will take place on Friday, May 18 from 10 a.m. to 10 p.m. and on Saturday, May 19 from 10 a.m. to 4 p.m.
The annual Tarpon Festival is the island's one and only street festival of the year, which centers around the 36th annual World's Richest Tarpon Tournament and culminates in a world-class art show, the Boca Grande Invitational Art Festival. It features the handmade fine art and crafts of 60 marine, nature and wildlife artists from across the country.
The Tarpon Festival is free and open to the public.
Along with the Art Festival, there will be live music during the day and into the evening, local food booths providing delicious food and a beer-and-wine cafe set up near the stage for thirsty festival-goers.
The Street Party begins on Friday afternoon at noon, with live music on the 3rd Street stage all day followed by the Boca Bande, a local favorite, from 6 to 10 p.m. The awards ceremony for the World's Richest Tarpon Tournament will be held on Friday evening, May 18 around 9 p.m., and then the street party continues with the Boca Bande on the stage.
The Art Festival and Street Party continue on Saturday, May 19 from 10 a.m. until 4 p.m. with live music all day.
Everyone is welcome, so bring your friends and family to Boca Grande for the annual Tarpon Festival on Friday and Saturday, May 18-19, for a day of art, fishing and fun in a beautiful setting. The Festival is free, and there will be plenty of parking available.
I hope to see you there!
Carroll Swayze
Englewood and Boca Grande