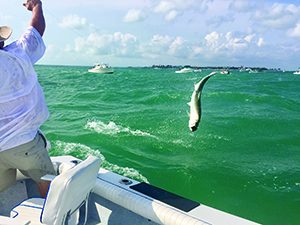 BY MARCY SHORTUSE – The seas were rockin' and rollin' for the 2017 Ladies Day Tarpon Tournament (and there may have been a little inadvertent chumming going on), but there were still 28 releases during the three-hour fishing time. The tournament is presented every year by the Boca Grande Chamber of Commerce and a group of very diligent volunteers headed up by Melissa Laterza of Englewood Bank & Trust.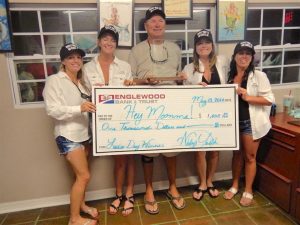 Capt. Wayne Joiner's team on Hey, Moma! took first place, getting the first three fish of the day for the win. Anglers included Amber McGuiness, Lauren Swanson, Jodi Crabtree and Tracy Swanson. They took home a $1,000 check and the coveted winning pendants from Barbara Anne's Jewelry & Repair.
Second place went to Capt. Frank Davis and his team aboard Native, including Dondi Davis, Gail Davis, Kristi Davis and Kim Bellas. They had three releases as well.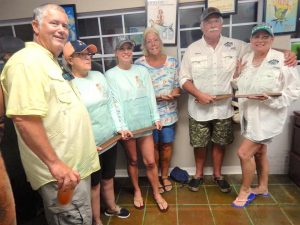 Third place went to the team aboard Sundown with Capt. Timmy Smith, including Joy Ferrell, Jackie Crowder and Joy Samsford.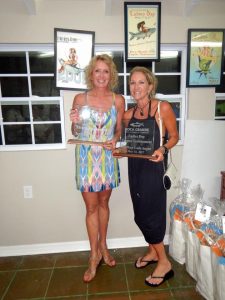 The first release of the tournament came from Team Squaw at 5:06 p.m., just six minutes after the tournament began. Phil-Jack had a release at 5:14, and Team Boca Blue released the third fish at 5:15 p.m. The Hey, Moma! team released their first fish at 5:32 p.m.
The party the night before at the Crowninshield Community House was a fun time as well, with delicious food (think to yourself, "What would a mermaid eat?") by Karen Kelley and Dan Nuzzi, and music by Jam All Day. Jam All also provided the party with a photo booth, which everyone enjoyed.
"We all had a great time, thanks to the preparation and hard work of many, many people," said Chamber President Candy Brooks. "We have never failed to have so much fun at this tournament. Ladies Day is always one of the best parts of tarpon season!"