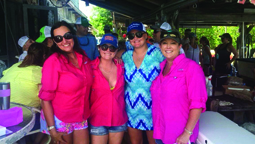 ---
BY MARCY SHORTUSE – It was a hot morning out on Boca Grande Pass on July 16 at 10 a.m., but there were plenty of ladies ready to fish and seek the ever-elusive July silver king.
Angler Candy Brooks got lucky. She's always got a hot hand with the tarpon, and she didn't let her team down as she brought one to the boat just after 11 a.m.
She was on the Tracy Lynn with Capt. Willie Mills and fellow anglers Kalee Joiner, Leslie Edwards and Jodi Alice.
Their team won $1,700 and silver hook necklaces from Barbara Anne's Jewelry & Repair. Capt.
Willie got a 65-Yeti, courtesy of The Temptation Restaurant. For getting the first tournament tarpon, Brooks also took home a turtle necklace donated by Angie Mills-Salt Tales, as well as a gift bag.
Second-place winners on the Casurina with Capt. Charlie Coleman included Nicole Coleman, Alex Young, Cannon Jones Wenzel and Mama Noy. They won $915 and silver hook charms from Barbara Anne's Jewelry & Repair. Capt. Charlie took home a personalized, custom-wrapped Afco baitwell net (courtesy of William Woodruffe, the head judge) and a two-year membership to the Boca Grande Area Chamber of Commerce. "
We had a great time and were so happy about our turnout," said tournament co-organizer Kacy Joiner Cheske. "Although the tarpon were being stubborn, they were out there glowing on the fishfinders. All of the boats were loaded down with awesome women who wanted to have fun with their matched team and catch some fish. It was a blast, and we can't wait until next year!"