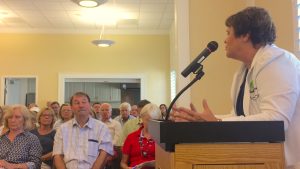 ■ BY MARCY SHORTUSE
A proposal to renovate a private home to an assisted living facility on East Railroad Avenue was not well received in the Boca Grande community, and it brought more than 40 people to the first of two Boca Grande Historic Preservation Board meetings in the last two weeks.
The meeting at which the proposal was addressed was held on Friday, Oct. 6, with presenter Phanta Sea Assisted Living bringing the idea to the table.
Sally Thimm of a Venice company called sallycares.com addressed the Board and audience, explaining that her thought was to convert the non-contributing residence at 1050 E. Railroad Ave. into a four-bedroom ALF. The idea for the project, she said, stemmed from the fact that a family member needed assisted living care, and she knew there would be room for three other people who also might require care to live there.
Proposed changes included construction of a new parking stall accessible from 11th Street and a ramp from that parking space to the pool deck, consistent with standards set by the Americans with Disabilities Act (ADA). A new concrete walkway from the parking stall to the pool deck was also proposed, as was a new sliding gate across the driveway running through an opening in the existing wall along the 11th Street side of the property. The plan also proposed construction of a new, detached shed in the corner of the property, a new pool heater and landscaping, installation of an emergency generator on an elevated platform, a new swing gate at the existing access along East Railroad and interior modifications to make the home ADA-compliant.
Lee County Attorney Amanda Swindle addressed the Board prior to their perusal of the proposal, and said the County had approved the plan and recommended approval from the Board. However, she said, she realized there had been numerous letters written to the County protesting the proposal. She also cautioned the Board that a rejection of the proposal would need to be accompanied by an outline listing the specific criteria the applicant failed to meet within the guidelines of the Historic Preservation Board.
"Outside of the project not meeting those criteria, there is no basis for denial," she said.
Board Member Susan Hanafee addressed the explanation and asked if public opinion had no bearing on the matter at all. "You're saying if it meets all criteria and there is opposition or support from the public that it is really irrelevant?" she asked.
"No, absolutely not. If the public input is in such a way to convince you it doesn't meet the criteria, you are free to deny it. There are established criteria, and as far as this property there are more steps on this proposal that have to be done, and we're not there right now."
Lee County Principal Planner for Zoning Anthony Rodriguez agreed with Swindle, and said bringing the proposal in front of the Boca Grande Historic Preservation Board was just the first in a number of steps to gain permission from the County. Subsequent to the Board's approval, the applicant would have to work through a state licensure process addressing coastal high-hazard areas, emergency preparedness, onsite location of a generator, adequate fuel supply to maintain an adequate living temperature, and building design.
"The reason the applicant is starting here is because they aren't going to waste their time and money on all the other steps if they can't get approval here," he said.
Thimm addressed the Board first, explaining that the facility would be for "functional people who need assistance, not a nursing home."
"I am trying to assuage fear and apprehension surrounding this proposal," she said. "The reason we have to go through this process is because the Agency for Healthcare Administration (AHCA) in Tallahassee told me if one of the owners were living in the home but not involved in the day-to-day operations, it had to be called an assisted living facility. That creates a whole different perception and brings about more policies and procedures that must be followed, as well as vigilant surveillance by the AHCA. It becomes a huge deal. That's the reason I lost the family care home title."
Thimm said she had received many negative emails involving the project, so many that she was becoming physically ill.
"I wondered where the fear was coming from," she said. "This is a home that will be gated and walled; you won't even see them. There won't be noise, they don't drive. I don't understand where the fear is coming from, and I want to understand what I can help you with. It's important for you to put into perspective what this is."
Several island residents spoke out against the project. Emerson Wickwire, a resident of Boca Grande Isles, addressed Thimm and the Board, saying, "I believe when you're asking about fear we are confusing two issues. I don't believe anyone in this room isn't sympathetic to health issues. We all have them. But we're also a population in a residential community. Are there other ways to handle a family situation such as this without breaking zoning? This to me is the issue. We're talking about breaking zoning, not so much about fear. If residents here are questioning why we have to break zoning to accomplish this, I am uncomfortable with that, and I believe there are other options without setting this precedent."
Rodriguez addressed the room again and clarified that prior to the applicant filing their proposal they requested a pre-application meeting with zoning staff to go over this proposal and go over use and process for historical review. Prior to allowing the applicant to file the application, Lee County staff and a County attorney reviewed the Gasparilla Act and provisions of the land development code and determined that this proposal does not violate the code.
"It is zoned RM2, residential multiple family, and it was in place prior to the adoption of the Gasparilla Act in 1980," Rodriguez said.
Rodriguez also said that the ALF definition was reviewed, and it is defined in the Land Development Code as "any building or buildings, section or distinct part of a building, private home, boarding home, home for the aged or any other residential facility, whether operating for profit or not, that through its ownership or management offers one or more personal services for a period of more than 24 hours to one or more adults who are not relatives of the owner." The code defines ALF as residential land use, and it is allowed in a residential district.
A dwelling unit as defined in Lee County code as providing for density conversions for ALFs, is a place that provides meals from an essential kitchen. Every four residents equate to one dwelling unit. Four beds equal one dwelling unit.
According to the GICDA definition of a dwelling unit, one ALF room equals one dwelling unit, or one commercial dwelling. It also states that if the land is less than one acre, the density can be reduced. The property in question is one-quarter acre and is designated for only one dwelling unit. For most intents and purposes, the GICDA supersedes any definition of density in County ordinances.
Swindle said the definition in the Gasparilla Act is applicable for provisions within that Act only. "There are additional land development code regulations that require the County for an ALF to make a conversion from residential dwelling units to an actual calculation of how many dwelling units they will have for purposes of density," she said. "The dwelling unit definition within the Gasparilla Act applies for purposes of the Act. For a conversion of a residential dwelling unit to a calculation of unit per density is a different code section, so a different definition is applicable. I'm hesitant to get into this, because what is before this Board isn't a calculation of density or an interpretation of dwelling unit. What is before this Board are the alterations at hand, and whether they meet the criteria outlined in the code and in your enabling resolution. I'm not saying it supersedes the Gasparilla Act, I'm saying the definition within the Act is listed only for purposes of that Act. We have a different code section for calculations of residential density."
Other than Wickwire, several other audience members came to the microphone, all in opposition to the plan. Lynne Seibert explored the issue of how County codes regarding dwelling units could supersede the Gasparilla Act, to which Swindle responded that County codes are more restrictive than codes within the GICDA.
"It doesn't mean we don't have to go through density calculations required by code today," Swindle said. "This is outside the subject in front of the Board today. This Board's duties are not to regulate the GICDA."
"Yes, that's your job," Seibert said.
"Yes Ma'am, it is," Swindle replied.
"Then we're going to have a lawsuit over it," Seibert retorted.
Arch Hager of Damficare Street called the project "a workaround that will keep inspections out and care at risk. How will insurance contracts be written? What about property values? Whoever this healthcare provider is that you're going to subcontract the work to, can they just buy the house? Could I turn my house into a healthcare enterprise? Are you saying you won't honor The Gasparilla Act? That's a hostile position! This violates every principle we've ever talked about. It's a ruse. We're playing with words."
Camille Williams joined the fray as well. Her concern was that if this home could be turned into an ALF, why couldn't the home next door, owned by the same family, be turned into a second ALF home?.
"I look around this room and I see so many people who have taken care of loved homes – at home," she said. "I feel we are being insulted; you are preying on our emotions. Please, we have got to find a way to take the emotion out of what is being stated here, and please stop insulting us by saying we don't have empathy regarding this subject. What you are presenting here is a corporation, a business. That is what is upsetting everyone here today. I don't think there is a resident here who agrees with what you are doing."
In the end, Board Member Becky Paterson made a motion to deny the project, and the rejection passed unanimously.
At the October 11 meeting of the Board, Paul Eddy distributed a letter written on October 9 regarding the denial. It was sent to Rodriguez, Swindle, other Lee County administrators and BGHPB members from Paul Eddy, the Board's chairman.
The letter read, "This proposal is a violation of the Gasparilla Island Conservation District Act and should not have been presented to the Boca Grande Historic Preservation Board in the first place. The conversion of a single-family residence into a four-iunit ALF violates the density limitations in the GICDA. The only definition of dwelling unit applicable to Gasparilla Island is the definition in the GICDA. No local government or agency may grant variances or exceptions to density or other provisions of the GICDA."
Eddy listed reasons for denial of the project that included the application not meeting submittal requirements; that no summary of zoning relief requests was provided with the submission; that there was no title block on the plans, and they were not signed by a Florida Licensed Architect or engineer as required in a coastal high- hazard area; and that there was no elevation certificate provided. (For a complete look at the letter, go to the Boca Beacon's Facebook page.)
Board Member Billy Caldwell said he was comfortable with the fact that the letter was signed by Eddy, not the entire Board, as he didn't feel it was totally accurate. "We've never had elevation certificates," he said. "That's because you can't expect the petitioners to spend the money to provide that unless they know it has been approved here. I don't think the letter is representative of the entire Board."