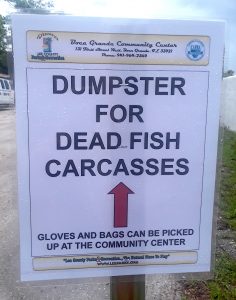 From Friday, June 29 to Monday, July 2 residents can use the dumpster that will be located at the west end of 7th Street in Boca Grande, Gulf side, to dispose of fish carcasses related to the presence of red tide. Plastic bags and latex gloves can be picked up outside the Parks & Recreation office at the Boca Grande Community Center from Friday through Sunday. Place all fish in plastic bags and put in the receptacle. Do not put dead fish in your household waste.
Lee County Parks & Recreation staff has been cleaning county beach accesses but is only allowed to clean county property.
For more information, please call the Boca Grande Community Center at (941) 964-2564.