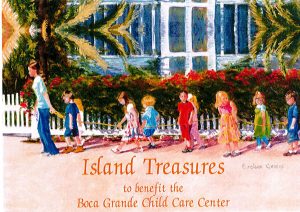 BY MARCY SHORTUSE – So many great memories have been made at the Boca Grande Child Care Center, it would be hard for graduates to pinpoint just one. From walking around town "holding the rope" to visits from the Boca Grande Fire Department, the kids who attend the Center leave with much love for their very first school and a great start to their education as well. The Boca Grande Child Care Center provides a safe place for the learning and development of one-to-five-year-old students to prepare them for elementary education, and provides a general atmosphere of fun for the children as well.
Every year the Child Care Center holds a benefit at the Boca Grande Club to keep the costs of the program low, and to fund scholarships and other miscellaneous programs. This year their benefit will be held on Monday, March 6, and it is vitally important to the Center that their loyal supporters be on hand.
"Each year we turn to our community of friends asking that they consider attending our gala, dinner, and auction," said Angela Steffan of the BGCCC Board of Directors. "This event and other contributions allow us to keep our tuition at $75 per week per student, thus making it possible for our community of workers on the Island to send their children.  In addition scholarships are provided for families who need additional help. While Our Lady of Mercy Catholic Church provides the facility at no charge, but we need your help in providing funds for the scholarships and maintenance of the facility and an ever-improving curriculum."
This year live auction items include a big one: A trip to Southern Cross Club Fish & Dive Resort on Little Cayman. This includes a five-night stay for two at the Southern Cross Club, airport transfers, all meals in the SCC Dining Room and use of resort bicycles, kayaks, paddleboards, beach towels and snorkel equipment.
In other words, all costs are included short of the bar bill.
Other live auction items include:
• A cruise and dinner at the private island of Useppa
• A "Special Occasion" five-course dinner with wine pairing at The Gasparilla Inn & Club's elegant Main Dining Room
• A sunshine yellow golf cart
• A putting party at The Gasparilla Inn Golf Course and Gazebo, including cocktails and hors d'oeuvres
• Dinner at the Our Lady of Mercy Rectory with Father Jerome Carosella, catered by Kim Newlin of Newlin's Mainely Gourmet
• A designer chandelier of driftwood and seashells by Child Care Center artist/mom Jennifer McLaughlin
The silent auction includes:
• A cabochon gemstone/sterling silver bracelet handmade in Greece from Fine Things Jewelry
• A jumbo Green Egg (outdoor grill) and stand
• The newly-released book "Portrait of Courage: A Commander-in-Chief's Tribute to America's Warriors" written and signed by Pres. George W. Bush
• Two copies of "Our Great Big Back Yard," a book written and signed by Laura Bush
Tickets for the event are $150 per person. Tickets and additional information can be obtained by calling the Child Care Center at 964-2885.
"This compassion and care for community's children is so typical of the Boca Grande community," Steffan said. "Please join us with your friends at the Event on March 6 at the Boca Grande Club or call with a donation.
"You are needed and can make a difference."