To the Editor,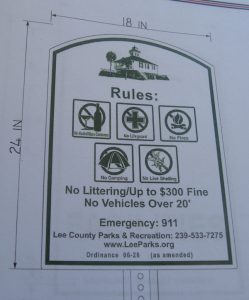 I would like to clarify some of the issues mentioned in the article last week, "Beach access parking to be cleaned up; new signage proposed," because the article has raised some concerns.
Two years ago the Gasparilla Island Conservation and Improvement Association (GICIA) requested assistance from Commissioner John Manning regarding problematic and hazardous parking situations on many beach access streets and around the village.
These problems are not new, but they have worsened with ever-increasing visitor traffic to the island. Residents' driveways were being blocked, noise, trash and unruly behavior were causing environmental and security concerns, and, most importantly, emergency vehicles were often being blocked. The parking problems in the village in season are well known.
The GICIA, at Commissioner Manning's suggestion, put together a committee of island residents to work with the Lee County Department of Transportation, the Lee County Sheriff's Department, the Boca Grande Fire Department, Lee County Parks and Recreation and other county staff to work on the problem and perhaps propose changes to the Gasparilla Island Parking Ordinance (Ord. 91-35).
Local residents Chris Cowperthwait, Robert Johnson, Sandy Melvin, Lynne Seibert and Mark Spurgeon, together with Fire Chief C.W. Blosser, Lt. Jeff Corkhill, Joe Wier of Lee County Parks and Recreation and other Lee County staff met several times in Fort Myers and several times in Boca Grande. We walked and reviewed each beach street. Emergency vehicle access was found to be a problem on 9th, 14th,17th and 19th Streets. Randy Cerchie of DOT sent us copies of the surveys indicating the problematic areas.
It was our understanding at that time that these areas would be trimmed back enough to allow emergency vehicle access, and that every care would be given to preserve the historic character of these sandy lanes. There was never a need or support for creating any more parking by stripping these historic streets of their tropical foliage. We sincerely hope that this mindset has not changed at the county level since last year. After reviewing the FDEP Shoreline Protection Project documents, it was pointed out to staff and county commissioners that there are many more parking spaces available now than are required by the beach renourishment agreement.
The goal of our committee, as proposed by the GICIA, was to help the beleaguered residents by trying to solve some of the problems of chaotic parking and emergency vehicle access on these beach streets. County staff was also made aware that the preservation of the scale and character of our historic district is of utmost concern to our residents and the GICIA.
This was the primary goal of our Community Plan, which is part of the Lee Plan. Staff was furnished with relevant excerpts from our Community Plan just to emphasize that point. Concurrent with the emergency access problems, the committee worked on concepts to help resolve some of the other behavioral and parking problems.
It was established that most issues could be solved with better enforcement and signage rather than going through the lengthy process of revising the Gasparilla Island Parking Ordinance (Ord. 91-35). We agreed on a number of items to be included on the signs. Beach access homeowners also formed an association, and their representatives met with the county commissioners and staff to present some innovative proposals on how to better organize the parking.
The commissioners all agreed that Boca Grande was a very special place and needed to be carefully preserved. They sympathized with the homeowners and indicated that so long as there was no legal impediment, they should work with staff on their proposed plan.
That was last spring. Apparently, over the summer there were a number of staff changes at Parks and Recreation. We heard nothing more from the county until we were notified in December that DOT was going to install new "public parking" signs along Gasparilla Road at each beach street on December 20.
The proposed signs were huge – 18" x 24," bright blue with a white circled P – typical of what you would see in a commercial or airport parking lot. Certainly they were not suitable for the small, sandy lanes in our historic district. Chris Cowperthwait and I immediately requested a meeting with county staff and the parking committee to discuss the new proposal. Our previous year's work had just disappeared. Kathy Owens, the new acting director, and Jesse Lavender, administrative manager of Parks and Recreation, were briefed on the history.
To his credit, Jesse worked with us to design signage more appropriate for our historic residential beach streets. The three or four signs currently at the entrance to each beach street will be replaced with a single 12" x 18" white and green public parking sign with a graphic of our historic lighthouse. At the west end of each beach street will be an 18" x 24" white "rules" sign. The required "No Open Containers – Ord. 06-26" will be accommodated on those signs. Signs will be marked "Beach Access" where there is an "official" county beach access (not all streets are), and some will just be marked "rules." It is our hope that posting the rules will bring some order, assist with enforcement and discourage litter.
Gasparilla Island is a fragile barrier island barely a half-mile wide at its widest point. It is an environmental treasure. As more and more people want to come to our island, we all need to be aware that there are limits to its capacity and infrastructure. The reason people want to come here is to enjoy the island's tranquility and natural beauty. We would be fools to allow it to be degraded. Boca Grande is the special place that it is because residents before us invested their time and treasure and fought hard to preserve it.
Once it is gone, it's gone.
Lynne Seibert
Member, Boca Grande Parking Committee Former Chairman, Boca Grande Community Planning Panel