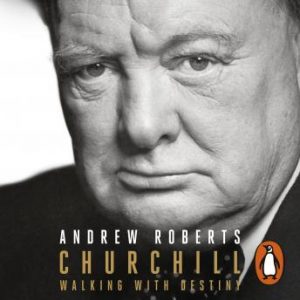 ■ BY MARY COOK
Prominent British author/historian Andrew Roberts was back in Boca Grande last week on Wednesday, January 30. This time he came because the island wanted to hear about his book Churchill, Walking with Destiny. Why another Churchill biography, when 1,009 had already been written? First, as reported in the news, Queen Elizabeth II granted him exclusive access to her father King George VI's wartime diaries, "a cornucopia" of new material.
Winston Leonard Spencer-Churchill (1874-1965) shared a close bond with George VI who was on the throne from 1937 to his death in 1952. Classified state secrets passed freely between them. Each Tuesday throughout the war years, servants allowed them total privacy in a room where the two friends served themselves lunch from a side table, talking over troop movements, nuclear developments, political action and foremost concerns of the day. The King, who departed from tradition by calling his Prime Minster "Winston," wrote volumes of meticulous notes from the meetings, notes that provided Andrew Roberts with a wealth of valuable wartime details and insights into Churchill.
When Churchill, Walking with Destiny appeared last Fall, The Wall Street Journal, The Economist, The Guardian, London Times and Sunday Times, The Spectator, The National Book Review and the New York Times declared it the best single- volume Churchill biography ever written and it zoomed to Bestseller and Best-Book-of-2018 lists. The Friends of the Boca Grande sold all 200 auditorium seats for Roberts' January 30, 2019, appearance here even before the book hit the stands in Britain in October 2018. By the time the book debuted in the U.S. in November, all 80 Community Center simulcast tickets had been sold, too.
On top of the records from the Royal Archives, other WWII diaries and intelligence became available to Roberts over the past ten years. He explored newly released diaries of Churchill's youngest daughter Mary Soames. She was often at her father's side and journaled continuously as she observed the stresses of political life and his European travel during the war. The lively 1932-43 Ivan Maisky diaries were published.  Maisky, Soviet Ambassador to the Court of St. James recorded continual one-on-one conversations with Churchill, some of which referred to Britain's acquiescence to Stalin. Roberts also took the opportunity to reexamine verbatim accounts of War Cabinet Meetings.
A spectacular research aid came in the form of Pamela Harriman's journals, which provided insights in a unique way. As Roberts noted in his talk, Churchill's daughter-in-law Pamela Digby Churchill Hayward Harriman, had wartime affairs with Edward R. Morrow, Averill Harriman, Sir Charles Moore, William Paley, American General Frederick L. Anderson, and Briton's Chief of Air Staff Sir Charles Portal, also Jock Whitney "and someone named 'Jerry.' Roberts reminded that his "access to her papers was exclusive, but no one had exclusive access to her."
Andrew Roberts is, of course, intimately familiar with his hero, having touched on the Churchill story over the previous 30 years, in countless articles and nineteen prior books. "Roosevelt and Churchill" were the subject of his 2017 talk in Boca Grande. Roberts' personal library includes all available Churchill-written works, including articles, notes, speeches, correspondence and 37 books, which earned the PM the 1953 Nobel Peace Prize for Literature. Roberts can account for Churchill's 7.1 million written and 5.2 million spoken words.
On May 10, 1940, Churchill, had just been sworn in as Prime Minister at age 65, as Germany had begun its blitzkrieg of Western Europe. He wrote "I felt as if I were walking with destiny, and that all my past life had been a preparation for this trial." Andrew Roberts notes that this destiny had loomed large with him "at least since the age of sixteen when he told a friend that he would save Britain from a foreign invasion."
His aloof parents had no sense that they were preparing him to be a Great Man. Lady Randolph Churchill (née Jeanette or Jennie Jerome from Brooklyn, NY) and Lord Randolph Churchill, Chancellor of the Exchequer and leader of the House of Commons had rare contact with their son.  A disdainful Lord Randolph seemed to have little or no respect for 20-year-old Winston when he wrote that he expected his son's life would likely "degenerate into a shabby, unhappy and futile existence."
According to Roberts, "the neglect and emotional cruelty at the hands of his parents that could have crushed a lesser person, instead gave Churchill an unquenchable desire to succeed in life, not only in general but in his father's chosen profession of politics." He had faith that with "enough spirit," he could "create something magnificent" and his well-grounded sense of humor did not hurt.
His destiny was, as Roberts puts it, finally a "destiny that he had spent a lifetime shaping." Churchill credited his mistakes as lessons for the future, saying: "I don't learn if not by my mistakes." Among his Parliamentary and military triumphs, there were mistakes, catastrophes, outstanding military debacles including ventures in Antwerp in 1914, followed by the Dardanelles in 1915 and Narvik in 1940. In the political arena, he mistakenly had the UK return to the Gold Standard, backed Edward VIII on the abdication crisis and was responsible for the "naughty document" that released Romania and Bulgaria to the Soviets. Courageous and steady, he maintained his sense of purpose, telling a friend "We are all worms. But I do believe I am a glowworm."
When Lord Randolph died at age 45, Winston Churchill feared he, too, would die young. But he outlasted many brushes with death. Not a religious man, still, he credited "The Almighty" for his survival, evidently preserved to be Britain's savior. Born two months premature, he was stabbed in the chest at school by another boy at age ten. His parents were summoned to his boarding school the next year when pneumonia caused him a dangerously high temperature and delirium. As cheerfully reported by Roberts, a cure for the condition was "regular administration of relatively large doses of brandy both orally and rectally," which should have "put him off brandy for life," but not in Churchill's case.  He escaped near drowning in Lake Geneva and a house fire. After five campaigns on four continents and an ambush where his unit had 34% casualties, he was captured in 1899 in Pretoria, South Africa, escaped, traveled 300 miles and joined another unit, becoming a Boer War hero.
Having outlived concussions, broken bones, three plane crashes, and two car crashes, including the 1931 one in New York City that left him a facial scar which reddened when he angered. Scoffing at danger in wartime, he often traveled well within close range of the Lufthansa. "Nothing in life is so exhilarating," said he, "as to be shot at without result." When severe pneumonia again threatened him in 1943 in Tunis, his staff summoned a Cairo medical team. Asked for a blood sample, Churchill replied "You can use my finger or my ear, and of course, I have an almost infinite expanse of arse."
Born in 1874 in Queen Victoria's reign, Churchill did not have a disposition befitting the Victorian era. Victorians, Roberts pointed out, are thought to be priggish, thrifty, "buttoned-up" sticklers for proper manners, moral righteousness, abstinence and dress. Conversely, cigar-clenching, mischievous Churchill was a "passionate man." A lifetime "spendthrift," when his writings finally made money, he bought the first of 37 racehorses. He was said to have shamelessly welcomed FDR while emerging from the bath without a towel. Witnesses tell of at least 50 instances of Churchill tears during WWII. Roberts ties the emotional Churchill character to an earlier period, Regency, the era of the Romantics.
As Prime Minister he exhibited depression in spots during the war but only in periods of unbearable defeat, such as in the Japanese takeover of Singapore in 1942. "Churchill did not suffer 'black dog depression' as rumored, nor was he alcoholic," according to the historian. His routine drinking habits were astonishing but only once during the war was the man seen actually drunk. "I have taken more out of alcohol than alcohol has taken out of me," Churchill said. Champagne was a mainstay. "I could not live without Champagne," he claimed in 1946, "In victory I deserve it. In defeat I need it." Novelist C. P. Snow declared that Churchill was no alcoholic because "no alcoholic could drink that much."
Churchill's personal heroes won wars, passed monumental laws, built political parties and palaces. With intelligence, courage and a bit of champagne or whiskey, he surpassed them. "The battles he won," Roberts reminds, "saved Liberty."