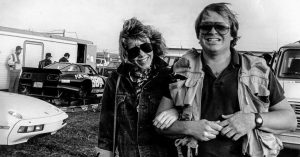 All Y'all,
I want to thank all of you who are helping me through the biggest loss of my life. I actually thought that I was the only person in the world who could love Tori so much. l'd like to contact each one of you personally but I start crying at every post. I will tell you my daughters and son are with me as we start a new chapter of our life.
In speaking of Tori, I always said that a good-looking woman makes you look like you know what you're doing. I say the same about my kind, smart kids.
All my love and gratitude go out to the Boca Grande Health Clinic. Deb, Becca, Laquanda, Kathy, Kelsey, Jonna. Dr. Hana, Dr. James and Dr. Ervin, your compassion matches your expertise. Dr. Ervin, you have been overhauling Tori and I for 15 years, and along the way you have been our guide and our friend. Of the scores of physicians we have seen over that time, we always refer to you as our "doctor" (well, I say that. Tori would say "boyfriend").
Boca Grande Fire Department, I know having our backs is in your job description but I can't tell you what meant to Tori to have your friendship, and what it means to me. Chief, I will always remember you stepping in and tracking her down when I couldn't find her, at the Bayfront Hospital after the ambulance arrived. Tori told Dr. Ervin she liked riding in the ambulance because "the big handsome firemen come and pick me up." Lt. Mike, for keeping an eye out for me – thanx, brother.
Speaking of hospitals, Englewood was where Tori was a frequent flyer. Thank you for sending her home so many times. The ER staff always made us feel safe. They had a way of easing the drama of her trauma. Once a doctor told a student to look at the bottom of her feet and said, "I don't see an expiration date, do you?" In the ICU the doctors walked me through the worst day of my life. The nurses were there for us, attending to all her needs, but especially the nurse that kept her hand on my shoulder as I held onto Tori when she went on her new journey.
My good friend Watson who has been with me when I cry and makes me laugh after – he knew her well. My old friend Kono who might have loved "The Queen" almost as much I do. Michale and Kamlin, who seem to pop up at the right time. Brandon, who listened to my woes and provided us with some tasty fried chicken (Hymie, I would've split the potato salad with you). Good neighbors Sally and Tim, thank you for dropping off the correct box of goodies from the bakery. Kathy James for her famous snickerdoodle cookies … with Tori gone I finally got to eat more than one.
To the Hudson's family that fed the assembled Perry clan, you are what the island is all about. Kathy, I will tell you, Her Majesty would approve of that handwritten, hand-delivered note. To that very old school dude Smitty, we get a lot of deliveries but not from anyone who has dropped off anything and sat down with our family to talk about the last 35 years.
Speaking of delivery, Kevin's route just go shorter. Kevin, thank you for all the "How is shes?" and making it easier for her by putting her internet treasures within her reach.
Marcy, thank you for your friendship and that perfect obit. Let me quote Richard Martini, an old friend of Tori's who, like you, makes a living from writing.
"Oh my God, it's really brilliant. Moving, funny and ridiculously smart. A bit like Tori."
Tori is the reason I came to this island; you all are the reason I stay.
Let us all not forget the beautiful story of "The Queen's" reign here on Earth.
Victoria Anne Kittredge's
insignificant other, Skip