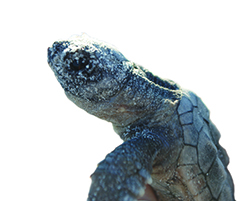 To the Editor:
The official season for sea turtle nesting on the Gulf Coast of Florida begins May 1 and ends Oct. 31, but nesting turtles may be here sooner or hatch a little later.
Mote Marine Laboratory has a few tips on how to help keep local waters and beaches safe for beach recreation and the sea turtle nesting season.
This year, Mote's Sea Turtle Conservation and Research Program will continue its long-term studies of local sea turtles by documenting every sea turtle nest and false crawl (when a turtle emerges but does not leave a nest) in Mote's patrol area, marking each nest with yellow stakes and flagging tape and collecting scientific data about each nest when it is found in one of their zones, which begin at Venice. Mote will also collect detailed scientific data on a representative sample of nests through their hatch, allowing researchers to document local trends in nest success as part of the sea turtle conservation and research mission Mote has carried out for more than three decades.
Mote research has shown that nest numbers have increased locally in recent years. Last year, the total number of nests (including loggerhead and greens) along Longboat Key through Venice reached 2,475, which beats the 2012 record by 6 nests.
Out of those nests, 340 were laid along Longboat Key Manatee County, beating its previous 2013 record of 327 nests; 698 nests were laid along the entirety of Longboat Key, beating its 2013 record of 643 nests; 408 nests were laid along Siesta Key, beating its 1995 record of 343 nests; and a total of 36 green sea turtle nests were laid along the 35-mile stretch of beaches, which broke Mote's previous record of 30 green turtle nests in 2013.
This nourishment project requires detailed monitoring for all nests on actively or recently nourished beaches. Thus, Mote scientists started monitoring these areas with active beach nourishment on April 15, two weeks early. In order to adequately monitor the 6-mile stretch of beach in a timely manner, you may see Mote staff members on an ATV rather than monitoring by foot, which is the typical means of beach monitoring. Mote staff uses the ATV to cover large stretches beach, but on most other beaches they patrol by foot.
Kaitlyn Fusco, Public Relations Manager
Mote Marine Laboratory & Aquarium