■ BY MARCY SHORTUSE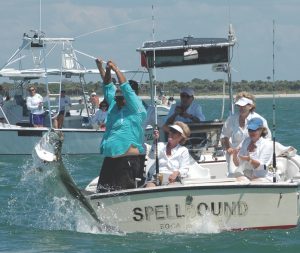 More than $10,000 has been raised by the generous people of Boca Grande and beyond to help to support Capt. Jackie Bylaska and his wife, Sandy, after Jackie suffered a stroke on Easter.
An update on the gofundme.com page titled "BocaGrande Friends of Jackie" reads, "Boca Grande: Big tarpon, little town, folks who care, big hearts for the salt of Boca Grande … Jackie, 50 years of guiding friends and guests.
You have spoken, thank you" While the official donation request has been exceeded, that doesn't mean that's all the money they need. Jackie and Sandy are looking at some serious financial issues as they face a long road to recovery … and Jackie out of the guiding business during tarpon season.
For more information, go to gofundme.com and search "Boca Grande Friends of Jackie."