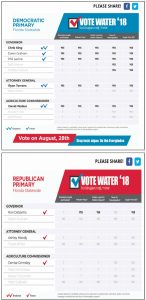 ■ BY SUE ERWIN
With a primary election right around the corner, this might actually be a year when people sit up and take notice of one hot topic in particular – clean water. While the Boca Beacon does not endorse candidates for any election, but knowing that people feel very strongly about water quality issues right now, our writer reached out to the seven candidates running for Agriculture Commissioner, and asked each one the following questions:
1) Do you agree that businesses and industries should not be allowed to dump polluted water into neighboring properties and should pay their fair share of cleanup costs?
2) Do you agree that water management district appointees should demonstrate expertise, experience and commitment to represent all stakeholders, and that district boards should be fairly balanced between industry and representatives for the Everglades, for the estuaries and for clean water?
Here are the responses (in no particular order as of press time).
Candidate Matt Caldwell said, "To #1 absolutely. No one should be able to negatively affect neighboring properties. And #2, the WMD boards should absolutely reflect all stakeholders."
Candidate Mike McCallister responded "Yes" to both questions.
Candidate David Walker replied "I agree companies should do their fair share of clean up costs. In regards to the second question: Yes, but there are complications with land ownership down to the south with very restrictive water standards from the Native Americans that complicate the issue even more … but I am aware."
After doing some research, we learned each candidate has a diverse background in agriculture – some more extensive than others.
There are three democratic candidates and four republican candidates. If you do a quick internet search on each one you will find an abundant amount of information that will help you make an informed choice.
We also discovered an organization formed in Stuart, Florida named Bullsugar.org, that had sent a five-question survey out to candidates running for governor, attorney general and agriculture commissioner. The questions were based on whether or not the candidates support the "Now or Neverglades," mission, a group of likeminded citizens who realize the problem and solution to Florida's water disaster needs to be addressed immediately.
The survey asked if candidates were against companies dumping polluted water onto neighboring properties; if taxpayer-owned land should be used to the public interest; if they agree that health and human safety are a higher order of priority than crop production.
We also also sent out email inquiries earlier this week to the Calusa Waterkeeper and the Gasparilla Island Conservation Improvement Association asking if the organizations were endorsing any specific candidates who are running and focusing on water quality as a priority. The Waterkeeper as well as the GICIA replied that as 501c3 organizations, the members are restricted from giving candidate endorsements.
NOTE: Bullsugar.org, a is a grassroots organization founded by Stuart, FL residents in August 2014 on the belief that stopping the damaging discharges to our coasts and restoring the Everglades, sent out questionnaires to candidates to get their input on "Now or Neverglades" support.
Graphics obtained with permission from Bullsugar.
Early Voting for the Lee County and Charlotte County Primary Election began Saturday, Aug. 18 and continues through Saturday, Aug. 25. Early voting sites will be open through that date from 10 a.m. to 6 p.m. Voters may use any one of the ten Lee County sites. • Bonita Springs – Elections Office – Bonita Commons #105, 25987 S Tamiami Trail, Bonita Springs, FL 34134 • Cape Coral – Elections Office – 1039 SE 9th Avenue, Cape Coral, FL 33990 • Cape Coral-Lee County Library – 921 SW 39th Terrace, Cape Coral, FL 33914 • East County Regional Library – 881 Gunnery Road N, Lehigh Acres, FL 33971 • Estero Recreation Center – 9200 Corkscrew Palms Boulevard, Estero, FL 33928 • Fort Myers Regional Library, 2450 First Street, Fort Myers, FL 33901 • Lee County Elections Center – 13180 S Cleveland Avenue, Fort Myers, FL 33907 • North Fort Myers Recreation Center – 2000 N Recreation Park Way, North Fort Myers, FL 33903 • Northwest Regional Library – 519 Chiquita Boulevard N, Cape Coral, FL 33993 • Veterans Park Recreation Center – 55 S Homestead Road, Lehigh Acres, FL 33936 In Charlotte County, early voting for the 2018 Primary is offered now from 7 a.m. to 7 p.m. through August 26 at the following sites: • West County Annex – 6868 San Casa Drive, Englewood, FL 34224 • Mid County Regional Library – 2050 Forrest Nelson Boulevard, Port Charlotte, FL 33952 • Charlotte County Historic Courthouse – 226 Taylor Street, Punta Gorda, FL 33950