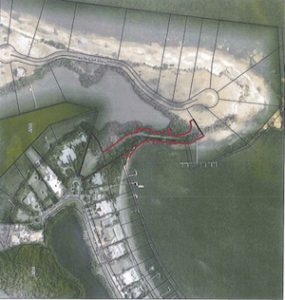 BY MARCY SHORTUSE – There is an old proverb that says if a camel gets his nose in a tent, his body will soon follow. Those are the words written as part of a Petition for Writ of Certiorari in the case of the Three Sisters right-of-way, which was filed on April 6 in Lee County circuit courts, and alludes to the fact that by granting three variances on a roadway that still doesn't technically exist makes that roadway's existence a lot more plausible.
Island landowner and mogul Chad Pike and his legal team have filed the petition against Lee County, a Boca Grande Isles-based company called 5F and the Three Sisters Homeowner's Association, Inc. It asks the court to quash the decision made by the Lee County Hearing Examiner on March 7 that approved three variances for a roadway that may or may not ever be used.
The petitioner states that the hearing examiner failed to follow "essential requirements of law" in approving the variances, and that there was a "complete lack of substantial evidence" to support granting the variances in the first place.
Pike owns lots 100 and 101 in Boca Grande Isles, and has developed them as one property with a single-family residence on the land. The properties are directly adjacent to Lot 99, which is where the road (which appeared under mysterious circumstances decades ago due to what some say was "natural accretion" and others say was through a contracting company slowly putting fill across the waterway).
On May 5, 2017 5F and theThree Sisters Homeowners' Association applied to Lee County for three variances that were necessary to complete the roadway from Jose Gaspar Drive in Boca Grande Isles to Three Sisters Island, where there is currently only one home built (also owned by Pike).
The three variances are for relief from having to erect a 50-foot wide vegetative buffer between the road and private homes, for having to erect a five-foot minimum retaining wall setback landward of wetland vegetation (asking instead to erect a two-foot retaining wall), and for relief from "specific buffering" when roads are less than 125 from an existing residence. On March 7 of this year the hearing examiner made her ruling, which was to accept all three variance requests … on a road that is barely a road to begin with, a road that appeared almost overnight in the mid-1980s, a road that local fishermen and recreational boaters used to use every day.
The petition states that, "This circuit court has already established the law of this case, beginning with Judge Thompson's 1992 Summary Final Judgment that permanently enjoins the 'owners' (5F and Three Sisters Homeowners' Association) to only use Lot 99 for single-family residential purposes, and declares invalid the Three Sister replat insofar as it would permit the use of Lot 99 for any purpose other than single-family."
The petition shows that over the last 16 years the courts have upheld the 1992 Summary Final Judgment at least six times. In February of 2017 Lee County Circuit Courts again upheld 1992 judgment, and the magistrate presiding over that court case said the injunction was "in full force and effect and cannot be lifted unless the prior case is reopened with consent from all original parties and consent of all owners within Boca Grande Isles (which they did not have).
"What appears to have occurred here is a classic example of the local government loosely applying codes and ignoring parts of the law in order to permit development approvals by way of what they perceive are reasonable variances," the petition read.
"Time and time again, our Florida courts have overturned the granting of variances due to a complete lack of evidence … and due to failure to apply the established law of variances to the case at hand."