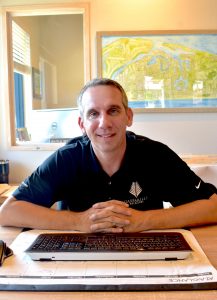 BY SUE ERWIN – Robert Domke has been spending summers in Southwest Florida since he was 10 years old. His grandparents lived in Englewood, and when school let out each year, his parents would send him down to Florida to visit them.
"I was very close with both of my grandparents, so instead of staying at home with a babysitter, it was just easier for my parents to send me to Florida," he said.
Robert grew up in Chicago, Illinois. After attending college, he worked for several years as a civil engineer. With a struggling economy seemingly getting worse, he decided to switch careers and get into real estate.
"The company I was working with was folding, and the writing was on the wall that I needed to do something different, so I jumped into real estate," he said.
He worked as a broker and had his own business for about eight years when the grueling winters began to take a toll on him.
"It was not easy driving to the train station every day and then getting on a train for another 45 minutes, and then walking through snow and ice to get to the office," he said.
With fond memories of Florida from his youth, Robert and his wife, Danielle, decided to move to Florida when they were in their 20s, but it wasn't exactly the right fit at that time. So they moved back home, and he worked in the Chicago area for about ten years.
Robert also worked for an investment firm as a property analyst and asset evaluation specialist for a corporate firm in downtown Chicago.
Four years ago, the Domkes decided they were ready to come back to Englewood and find a home. "It was scary, but definitely the best thing we've ever done," he said.
Robert is now the vacation manager at Gasparilla Vacations, a partner of Gulf Coast International Properties in Boca Grande. He's been working on the island for about five months and said he's very happy to be working in Boca Grande.
"I really like working in real estate, it's a very social job, and I enjoy working with people," he said. "And this is such a beautiful area to work in. Everyone I've met on the island has been so friendly."
Before coming to work in Boca Grande, he owned a small real estate brokerage in Englewood. His goal as a vacation manager is to give clients everything they need so they can begin enjoying their valuable retreat time as soon as they arrive on the island.
"We want their experience to be as stress-free as possible – we'll stock groceries in the refrigerator and have a golf cart charged and ready to go for our clients the minute they arrive on the property," Robert said. "If they want paddleboards or a kayak, we can arrange to have those dropped off as well."
Robert said he's working on adding more levels of service as well as helping with wedding packages and other social gatherings.
"We reinvented what was once a rental company within the office, and we're back at it with a little bit of a different style," he said, "We're adding more of a concierge experience of a vacation, not just the booking aspect."
In Chicago, Robert worked with annual renters but said his job here in Boca Grande is much more fun, because when you're helping to plan vacations, people are happy and excited to talk about it.
Robert and Danielle have an 11-year-old son, Kyle, and a 1-year-old daughter, Lyla. Kyle is in fifth grade and attends Englewood Elementary School. He'd been asking his parents for siblings for a while, specifically an older sibling.
So Robert and Danielle offered to host an exchange student from Italy for a year, granting Kyle's wish.
"It was something that we never had planned on doing, but my wife and I agreed that when we moved to Florida, we'd push the reset button on our lives and try new and different things."
Robert and Danielle are involved in several nonprofit organizations in the area.
"We enjoy meeting people and being involved with the community because it makes for a good balance in life," he said.
Robert said his family has been enjoying the Florida lifestyle. His son is very athletic and plays flag football, baseball and soccer throughout the year.
In his spare time, Robert enjoys sailing. He has a 20-foot boat that the family uses when they have leisure time. Kyle shares his passion for sailing and has participated in the Englewood Sailing Association youth sailing camps.
Robert has served on the board as vice president at Englewood Sailing Association. He is a United States Sailing level one instructor for the organization and has taught many kids how to sail over the past few years. He also coaches his son's soccer and baseball teams as well as flag football.
"All of my hobbies involve spending time with my family," he acknowledged.
Since moving to Florida, Robert has started to fish more, and he's teaching his son to fish as well.
"We're happy if we're able to catch anything," he said. "We even started using smaller hooks so we are able to catch more fish."
Although he has yet to experience tarpon fishing, he hopes to go in the future and appreciates the knowledge of the many local fishing captains on the island.
Kyle is a big football fan, so the family tries to attend Tampa Bay Buccaneer football games in Tampa whenever possible.
He said that, since his daughter was born, he hasn't had much time to go out boating and fishing these days, but he hopes that she'll enjoy those activities someday, too.
Robert and Danielle also have an 80-pound yellow lab named K.C. that completes the family. They brought K.C. with them from Chicago when they relocated to Englewood.
"I was scared to have such a big dog with a baby at home, but the two actually ended up being best buddies," he said.
The Illinois native is looking forward to serving new and existing clients in Boca Grande, and helping to provide them with the highest level of service by making their vacations both relaxing and memorable.
"We really love living here, and we appreciate Florida and all it has to offer," he said. "I'm hoping to develop more professional long-term relationships on the island in the future."