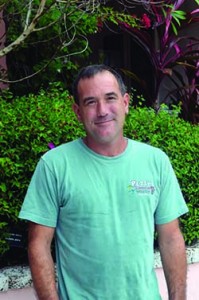 BY SUSAN ERWIN – Nationally experienced Island Chef Jimmy McIntire joined the staff at Newlin's Market on 4th Avenue in October.
It's kind of a funny, coincidental story that brought him to Boca Grande.
"Kim (Newlin's owner) and I worked together in New Hampshire 26 years ago, when I was in high school and I had just gotten my first line cook job and she was a waitress. We worked together for a couple of years and then parted ways," Jimmy said. "Last summer she found out her chef, who was a mutual friend, was leaving after the season to go to Colorado, and she called me up and asked if I'd be interested in coming down to work."
Jimmy, who was working a catering job in Atlanta at the time, booked a flight down to check out the area and decided it was the right move for him.
"I knew it was seasonal, which is fine, because that would allow me to go back home to New Hampshire for the summers months," he said. "I'll get the chance to be a 'snowbird,' which will actually be really nice. My whole family is pretty much still up north."
Jimmy has lived and worked in Atlanta, Tennessee, Nantucket, St. Augustine and California.
"I am fortunate to have a job that allows me to travel around. People have to eat no matter where you live," he said. "It's one of the good things about being a chef; you can go just about anywhere and find work."
Jimmy is not married and has no children, and often spends his afternoons with his dog, Jack, at the Boca Grande dog park. Jack is a 6-year-old chocolate-brown Husky/Lab mix with bright blue eyes.
"He is the absolute sweetest dog. It's just me and him, so we can do whatever we want – and right now we want to be in southwest Florida, especially for these next few months," Jimmy said.
Jimmy said he really likes the privacy of Boca Grande.
"It's a unique little place, and it seems like the people are very friendly and very nice," he said.
He said he has been enjoying seeing the same customers come in each day and discussing with them the different kinds of food they would like to see on the menu.
"It's nice, because people here are for the most part very health-conscious, and I'll cook whatever they want. They just need to share with me what it is they are looking for," Jimmy said.
He said he often gets requests for Vegan, gluten-free and kosher dishes and is happy to adhere to all requests.
"My job is to give people what they want," he said. "I feel like I am well-rounded enough as a chef to make whatever somebody requests."
Jimmy graduated from culinary school in 1994. He attended the Culinary Institute of America in New York for two years.
After that he moved to Atlanta to accept a catering position.
"I had no intention of doing catering, but the opportunity came along and there was a new caterer who was looking for a chef, so I tried that for a couple of years," Jimmy said.
After that, he accepted a position as a chef in San Francisco.
"I couldn't see myself living there permanently, but I did enjoy the area and I'm glad I went – it was a unique experience," he said.
A year later, he found himself back in Atlanta for another three years. There he catered mostly kosher-themed parties.
"I think I cooked for every major synagogue in Atlanta," he said. "I did a lot of upscale bar mitzvahs and delved into that for a few years. It definitely helped me get more well rounded."
After Atlanta, he went back to New Hampshire for a while and enjoyed doing freelance catering work for a couple of years.
"I was still flying back to Atlanta five or six times a year to do parties and help out at a couple of different friends' restaurants," he said. "It all worked out where it kept me busy enough that I didn't have to dedicate myself to a full-time job."
A couple of years later, another friend from Atlanta opened up her own catering company in Tennessee and asked Jimmy to help get that company started.
"She was looking for someone to offer some creative new thoughts on the menu items. I was there for a while, but it just wasn't where I wanted to be. So I did it for a few months and then moved on," he said.
Jimmy said he has always made it a point to never burn bridges and always leaves a job on a professional basis.
"I think that anyone I have ever worked with would hire me back at any time. I have always left jobs on good terms, and I always give plenty of notice," he said.
Jimmy said he enjoys moving on to new jobs at different locations because it helps him keep a fresh focus and learn about new variations on menu items.
"And now I have my own personal style. After working with more than 100 different chefs, I feel I can take the best of what they have to offer and incorporate it into my own unique style," he said.
Jimmy helped open a seafood restaurant six years ago at a marina in St. Augustine with the owner of the first restaurant he ever worked at.
"We were semi-partners for about three years," he said. "I could have stayed there, but I was more of an active contributing partner than an owner. It was something different, but not something I wanted to stay with. I thought it was my dream, but after a couple of years, I realized I really missed catering. When it comes down to it, catering is really my niche."
Jimmy said his favorite kinds of food to cook are Thai, Vietnamese, sushi and other Asian-inspired dishes.
"I've known that I wanted to be a chef since I was a kid," Jimmy said. "My grandmothers were both really into cooking and baking, and I started watching them at a very young age. I was cooking by the time I was 10. I think my family was actually hoping that I would become a pastry chef, but once I got into the meat and potatoes part of things, I realized I liked that more."
Jimmy said he is getting more and more catering requests recently at Newlins, which he welcomes, since he has extensive experience in the field of catering.
Jimmy also keeps busy by picking up local private chef jobs on the island. He was booked to cater a Thanksgiving Day feast as well as a Christmas celebration for local residents.
"I wasn't going to be with my family anyway, so I figured why not work and make some extra money," he said. "Plus it meant I got to take home a good holiday meal to enjoy that night."