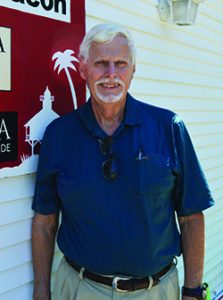 BY SUE ERWIN – When you meet a man who's been an educator, author, served our country, owned several businesses, defeated cancer and continues to spend several hours each week volunteering at a local hospital … you realize you're fortunate to know him.
This week's profile candidate is the Boca Beacon's newest proofreader – yes, proofreader – Dean Laux.
Dean was born in Evanston, Illinois, a university town just north of Chicago. When he was 4, his mother moved the family to Dalton, Mass. "It's a little mill town, where all the currency paper is made for the United States Treasury. Crane & Company, a maker of fine writing papers, has had the government contract to print it for well over 100 years," Dean said.
After graduating from high school, Dean majored in psychology at Amherst College, a small Ivy League school in Massachusetts. He graduated in 1954 and was drafted three months later. "It was at the end of the Korean War, and there wasn't any fighting going on at that time, but I'm still considered a Korean War veteran," he said.
After basic training at Ft. Dix, N.J., Dean was selected for counterintelligence (CIC) training at Fort Holabird in Baltimore, Maryland. He went through the agent school and was sent first to Monterey, Calif. for German language training and then to Germany in 1956. "The Cold War was in full bloom then and I got lucky. I ended up at the American Embassy in Bonn and worked as a civilian with a special group that advised the U.S. Ambassador on intelligence matters. We worked closely with other U.S. intel operations and with the German equivalent of our FBI, their Defense Department and their Kriminalpolizei. I was just an assistant liaison officer, but for a young draftee, it was a great experience," he said.
When he returned to the U.S. in 1957, Dean went back to Amherst College as a graduate student in geology. He was married at that time and had one child and needed to find work. His sister was a teacher in New Jersey, and she suggested a good high school in Glen Rock that was looking for someone who could teach science, math and German. That sounded like a good fit. After teaching at the school for one year, he became head of the science department, and by his third year he was the school's assistant principal.
The promotions didn't stop there. The next year, he became state supervisor of science and math for the State of New Jersey. "I visited schools throughout New Jersey and worked with their teachers and administrators on curriculum development," he said. While working as a state consultant, he was also working on his Ph.D. at New York University. "My job was a pretty visible one in the education field, so I did quite a bit of writing and speaking," he said. That caught the attention of an IBM subsidiary, Science Research Associates, a school and college publisher, which recruited him to come to Chicago.
His first year he served as assistant science editor, the second year as the science editor. The third year he became editor-in-chief of the company.
Three years later he was recruited by Raytheon to take over the presidency of their subsidiary, D.C. Heath & Company, a publisher of textbooks for schools and colleges, noted for its programs in foreign languages and science. There he orchestrated a series of changes that led to Heath's entry into the reading and math markets as well as books for the professional marketplace.
"The first day I went to work in publishing, I knew I wanted to be in business for myself," he said. "But I wasn't ready. It took me nine years to get the knowledge and experience to do it." He started Publishing Sciences Group, which was in the business of acquiring companies and publications in professional fields and handling their administrative, marketing and financial responsibilities. That company did well – so well that Dean's chief lender, a Wall Street broker, decided to take over the company for himself. After a lengthy hassle, Dean was bought out and started a second company without any investor loans. "We were basically medical publishers producing newsletters and journals for physicians in practice," he said.
That company prospered and branched out into two other fields: sports and travel. "The Boston Celtics asked me to author a couple of special publications for them on noted players, and I did so. Then we worked out an arrangement for me to buy out the publisher of their magazine, and I created Celtics Monthly, which I owned for a few years. It was their official publication, and I got to spend a lot of time courtside and in the dressing rooms of my favorite basketball team," he said.
But soon his publications in the travel field outgrew the others. The Laux Company, Inc. became an industry leader in publications for the travel and meetings business. He sold that business and retired in 1999, when he moved to Southwest Florida.
Dean and his wife Miryam, whom their friends all know as "Micki," have been married for 28 years. "But we didn't rush into it," he said. "We went together for 11 years before we tied the knot. And I am so lucky to have her as my wife." Together, they have "seven wonderful children and 11 wonderful grandchildren."
Since he had owned property in Naples and Fort Lauderdale, moving to Florida was a natural choice for the Lauxes.
"I had spent a fair amount of time on both the east and west coasts of Florida, and I realized this is where I wanted to live," he said.
Shortly after relocating, doctors discovered Dean had colon cancer. After having life-saving surgery and going through chemotherapy treatment for six months, he's been cancer-free for 17 years. "I like to put it another way," he said. "I just say, so far so good."
Dean and Micki had friends who lived in this area (including two college classmates who had lived in Boca Grande), and they decided to move here 12 years ago. "Naples was getting too crowded. It went from a little town like Venice to something as busy as Atlanta," he said.
Since retiring in 1999, Dean has worked with small-business owners as a consultant. He recently did some consulting with Noel Crosby, an audiologist at the Boca Grande Health Clinic. "In business consulting, a lot of what I did was keep people from making deals that would be disastrous for them. New business owners often don't know how to create a business plan, how to build a budget and how to obtain investment dollars if needed," he said. "They don't know the weak points of partnerships, and the importance of having an exit strategy for a deal as well as an entry plan."
Dean has been a volunteer at Venice Regional Bayfront Health since 2011. His is currently chairman of communications and serves as vice president for ancillary services, on the volunteer board. He writes and publishes the organization's newsletter and wrote a newspaper column on hospital issues for a couple of years. Currently he's writing a book-length memoir about the trials and tribulations of a fellow volunteer, a Jewish holocaust survivor who came to this country and made a successful life for himself.
In his spare time, he's an avid reader of books on English history and particle physics. "I enjoy being busy," he said. "I also enjoy the proofreading I'm doing at the Beacon. I live nearby, come to lovely Boca Grande twice a week, work with a fun-loving group of professionals and help make sure that we minimize the number of mistakes that can occur in a publication that has to be put out in a hurry. What could be more fun than that?"