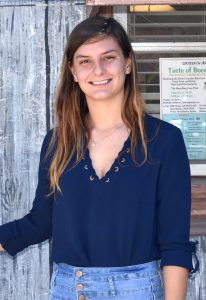 BY SUE ERWIN – Phelisha Doggett, a dispatcher at Grande Aire Services for the past five years, caught the first fish at the 2018 Ladies Mix, Match or Draw Tarpon Tournament held in July in Boca Grande Pass. She was invited to fish with a team aboard the Phil-Jack, led by Capt. Matt Coleman.
Catching the first fish of the night earned the team first place, which included a Yeti cooler, a bracelet from Barbara Anne's and a few other goodies.
"The red tide was really bad that day, and nobody caught a fish for the first two hours … and then I caught one," she said. "It wasn't a tarpon, but it still counted."
Born in Cherokee, Georgia, at the northern tip of the state, she moved here with her family at a very young age.
She traveled back and forth from Florida to Georgia to spend time with each of her parents.
Her mom lives here now, and her dad lives in north Georgia, so she considers it living in "the best of both worlds. It's very relaxing to take a trip up there every once in a while and experience the mountains, higher altitudes and less humidity."
Phelisha attended high school in Port Charlotte and graduated in Georgia, finishing up her education online.
"It was interesting to graduate from high school without anyone actually knowing who you are … I went to the graduation ceremony, and when they called my name, everyone turned around to see who I was."
Phelisha survived a terrible accident in 2012 in Punta Gorda, in which she broke her back and neck and spent two months at Johns Hopkins All Children's Hospital in St.
Petersburg. She was riding with two friends and was sitting in the middle seat of a pickup truck, wearing a seat belt, when the driver lost control of the truck, which flipped several times. The other two passengers were ejected, but Phelisha was still in the vehicle when it came to a stop.
"Somehow, they were ejected at 90-miles per hour … but whatever happened, I had the worst of the injuries."
She remembers the truck rolled several times. She heard metal from the vehicle hitting the dirt, and then she hit her head and blacked out.
Some amount of time later, she woke up – most likely very much in shock – and crawled out of a ditch and stumbled to a home near where the accident occurred. A woman who happened to be a nurse was home at the time.
"I told her what happened and asked her if I could sit down in her yard, because I was feeling nauseous and light-headed."
She recalls lying in the grass before a life flight helicopter arrived and paramedics prepared her to be transported to St. Petersburg Children's Hospital.
She said the experience of staying in a children's hospital was very sad, because seeing all of the terminally sick babies and young children was terribly depressing.
"It was just heartbreaking."
Phelisha was in the intensive care unit for a few weeks, and then she was moved to another ward where she would have to learn how to walk again.
After she was able to move around a bit on her own, she was fitted with a body brace which kept her back and neck straight.
Weeks later, she was released to go home, where she would remain on bedrest, allowing her to complete high school via the internet.
She moved to Georgia to be near her father for a while and returned to Florida about five years ago to accept a job in dispatch, similar to what she is doing now at Grande Aire Services.
It worked in her favor to accept a position at Grande Aire, because she is currently transitioning from dispatch to
accounting, which is what she is studying now at Florida Southwestern State College in Fort Myers.
"So everything that I've been doing here for the past five years is leading me to do something different, which is very exciting," she said. "I'll be learning a different part of the company, and I'm going to school for business management, so this is a good move as I'll be working toward advancing my career."
Phelisha keeps a very busy life, working full time Monday through Friday in Boca Grande and taking classes in the evenings during the week.
She said that as a dispatch employee, even though the company serves customers from Bradenton to Fort Myers, about 80 percent of the calls are from residents in Boca Grande.
The Ladies Mix, Match or Draw event was her first competitive tournament in Boca Grande.
"Danielle, who has worked at Grande Aire for many years, invited me to take part in the event because she knows I am always up for trying new things … and that was a really fun day."
After seeing the prizes, she realized she wouldn't have much use for the Yeti cooler or the tool bag, and she decided to pay it forward.
So she hosted a raffle, posting flyers around the office and throughout town. She raised more than $850 and forwarded it as a donation to Children's Hospital in St. Petersburg.
"I received donations from people as far away as Washington, D.C. as well as Georgia and some other states up north," she said.
Three of the prizes were claimed by Grande Aire employees, one from Italiano Insurance and and one person from Georgia.
Grande Aire Services owner Bobby Miller won the Yeti cooler.
"I can't wait to see him and tell him – he is a great boss and a very intelligent businessman."
Phelisha said her career goal is to advance into management and one day run a company.
"Whether it is at Grande Aire or someplace else, I want to finish my education and utilize it appropriately."
She also hopes to do more traveling in the future.
"I really want to explore new places and learn more about the world," she said.
Phelisha currently lives in Port Charlotte with her dog, Nani, which means "beautiful" in Hawaiian. She's a white boxer with one blue eye and one brown eye.
"She's my baby – she's three and she gets a lot of attention."
When she is not working, Phelisha enjoys boating, fishing, kayaking and visiting the natural springs throughout Florida.
"I love to be outdoors, and the cool water in the springs is great this time of year."
When asked what she likes most about working in Boca Grande, she said the people are friendly and she loves walking to the beach to look at the water every day.
"This place is like having another family – they are my island family," she said. "Bobby takes good care of his employees, and I'm very grateful for that. He puts together a tarpon tournament each year and schedules the captains and teams, and we compete against each other – it's so much fun."