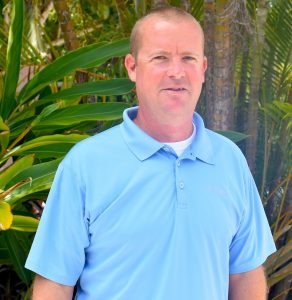 ■BY SUE ERWIN
If you've enjoyed a meal at the Boca Grande Club over the past several years, you would likely agree that the quality of food served was superb – both in presentation and taste.
That's because Executive Chef Greg Foos takes his job seriously, and he's put together a culinary team he knows he can trust.
Greg has led the kitchen staff at the club for the past seven years. "I have always enjoyed cooking; it just comes naturally to me," he said. "But when you're just starting out, you don't really know the long-term challenges that come with this kind of career."
Greg was born in Royal Oak, Michigan. His father worked for   a television station, so the family moved several times over the years to Ohio, Arizona and eventually Florida.
After graduating from high school in Jupiter, Florida, Greg attended the Johnson & Wales University in Miami and majored in culinary arts.
He knew in high school that he wanted to pursue a career as a chef. He cooked for a restaurant for more than three years while he was in school. That led him to create a recipe which would pay off big time in the future.
"I entered a high school recipe contest, and they chose ten winners from around the country to fly to Rhode Island and cook for professionals," Greg said. His recipe was one of the winners, and he received a full scholarship, earning an associate degree after two years.
Greg said the university's main campus was located in Rhode Island, but he chose the Miami location since it was closer to home. "It worked out very well, and it saved me a lot of money in the end."
Growing up, food was always an important part of his close-knit family, and he recalls it drew them all closer together to celebrate milestones as well as daily meals together.
His parents still live in Jupiter, directly across the state on the east coast. He has one brother who lives in Chicago and a sister who lives in Jupiter.
Greg met his wife, Jonna, while they were both working at The St. Petersburg Hotel. He was an executive sous chef, and Jonna worked in the pool and recreation department.
They've been married for seven years.
Before meeting Jonna in St. Petersburg, Greg had worked for Loews Hotels in Palm Beach Gardens, Miami Beach, Las Vegas and California.
"There was quite a bit of travel involved, and I had several opportunities to open different resorts … the company has doubled in size since I left. I'm very thankful to have gained all of the experience I have through their training program."
He worked as an executive chef at the Santa Monica Beach Resort and at the Key Biscayne Yacht Club before accepting the position at the Boca Grande Club.
He was already familiar with Boca Grande, having visited the island a few times in the past, usually coming here to fish for a few days at a time.
Greg said he enjoys working in Boca Grande because it feels like home, and he relishes cooking locally caught fresh seafood and a variety of locally grown vegetables as part of his daily meal planning.
Some of his duties as executive chef are training and maintaining high-quality staff and creating a team culture in the kitchen. And, of course, keeping up with trends in the industry and using sustainable resources.
Greg is into old-style "cooking from scratch," which he feels the diners truly appreciate, and he rarely cooks anything that comes in a box.
"Dealing with people, both on the front and back end, is a big part of the job," he said. "And being able to understand what your clients want and continuing to impress them consistently can be a real challenge, especially serving a well-traveled, educated population. I'm extremely proud of the team we have at the club."
When Greg brings a new employee onto the team, it's a long-term commitment, and for it to work, the team member must share the same ideas and philosophy on food. Most of the employees have been working together as a team since Greg started at the club seven years ago. There are nine kitchen staff members at the club. During season he brings on some high school students as dishwashers to keep the pace moving quickly in the kitchen.
"It's my job to hold onto my employees and make sure they are happy and proud in their jobs. I place a lot of trust in them to excel on an individual basis."
Greg and Jonna have four children: Peyton, 12, Ava, 8, Finnegan, 7 and Lila, 3. Peyton, Ava and Finn attend The Island School, and Lila spends her days at the Boca Grande Child Care Center.
The family currently lives in South Gulf Cove. "We have a nice piece of land with a big back yard … It's paradise for the kids."
They do not have any family pets at this time, but the children are constantly asking for one.
Jonna's parents live in Venice, so she can come over to visit regularly, and that's what motivated them to move to this area.
"We liked living on the east coast of the state, but the lifestyle is very different, and we thought this was a better place to raise our family," Greg said. "My hours are crazy during season, but then I get to spend more time in the summer with the kids, so that's nice."
Jonna currently works as a patient representative at the Boca Grande Health Clinic, so the family spends a majority of their time on the island.
Due to his long hours during season, Greg credits his wife for holding down the fort when he is working seven days a week.
"She also works full time, so taking care of the kids on top of that requires a lot of patience … I really admire her … She's always holding it together and keeping her cool."
When he is not working, Greg enjoys fishing, most outdoor activities and spending time with his family.
Peyton, Ava and Finn fished with Capt. Nat Italiano at the 2018 Gasparilla Island Kids Classic Tarpon Tournament.
"Peyton and Finn caught one, and they're still talking about it … That was such a great experience for them," Greg said. "And to see them work together as a team and figure out how to get it to the boat was great."
The Boca Grande Club closes for the month of September, so Greg and Jonna usually take a vacation together during that time.
They went to Costa Rica last year and are still in the process of making plans for this year.
"Costa Rica is a beautiful place, and we really enjoyed all the wildlife," he said. "But it was also very interesting to learn about their culture and the kind of foods they enjoy. Whenever I travel, I always try to bring some new ideas back to the kitchen."
Greg said he has found his dream job in Boca Grande. He loves what he does and has no plans to leave the island.
"I have a great support system here – Yvonne is just incredible," he said. "She's given me the freedom to use my creativity, which as a chef is very important. Because being creative is what I do best. I couldn't be happier."