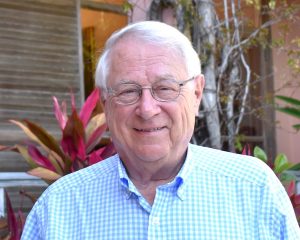 ■ BY SUE ERWIN
Dr. Richard Lockey has been a professor of medicine at the University of South Florida since the early 1970s. He is the only remaining founding faculty member of the Morsani School of Medicine at the university. He still participates as an affiliate faculty member when he is not enjoying time with his wife, Carol, in Boca Grande.
Richard and Carol were instrumental in bringing the recent Johann Sebastian Bach tribute concert to the Boca Grande United Lighthouse Methodist Church. Richard sponsored the performer to come to the island, and the concert was dedicated to his parents and to veterans.
"I think it's very important that we show an appreciation for classical music, and we have to introduce it to more young people," Richard said, recalling that several of his students had never heard of the composer when he asked them.
Richard is from Lancaster, Pennsylvania. He attended Haverford College and then Temple University Medical School. He served as a doctor during the Vietnam War for two years, as a Major in the United States Air Force at Carswell Air force Base in Ft. Worth, Texas.
"It was a very sobering experience … a time when we accepted responsibility as general medical officers as well as subspecialists, in my case an allergist/immunologist."
He cared for sick and wounded patients and gave secondary and tertiary care to Vietnam War casualties.
During his service, Richard established an active allergy/immunology clinic, which virtually emptied the hospital of patients with asthma.
While at Temple University College of Medicine, between his freshman and sophomore years, Richard hitchhiked to California with one bag of clothing and a letter in his pocket from the dean of medicine.
"He indicated that I was in good standing and I was looking for an externship," Richard said. "I arrived in Santa Barbara and was immediately given a job in the surgical service. I was offered a job that day. Today, it would take six months to get accredited and fingerprinted. My job was to hold the retractors during surgery. By the end of the summer I felt like I was a real doctor."
The next summer he hitchhiked again and ended up in San Francisco, where he was offered a job in the intensive care unit of a United States government hospital.
"In public hospitals, we would care for the Merchant Mariners from all around the world," he said. "They offered me free room and board and gave me $10 a week, so I could buy a plane ticket back to Pennsylvania."
After earning his medical degree, he spent three years as an internal medicine resident at the University of Michigan in Ann Arbor.
During his Air Force stint, he realized he wanted to pursue an academic career. He applied and was accepted at several institutions, and decided to join the team at USF.
"I felt that something unique was going on in Tampa … the beginning of a new college of medicine under new leadership was very exciting."
Richard and Carol moved to Tampa with their two sons, Brian and Keith, in 1973. Richard joined the USF Department of Internal Medicine team. He was a board-certified allergist/immunologist and helped start a training program in that specialization at the school in 1976.
Over the years, he served as professor of medicine, pediatrics and public health; director of the division of allergy and immunology; and  chairman for the Joy McCann Culverhouse in allergy and immunology at USF.
"We do a huge amount of research at the university – that's what we do best," Richard said. "In our department we have five conferences a week, and we also do clinics with rotating students. I still work a 60-hour week, but I still enjoy it very much."
When asked to describe those early days at USF, he replied, "Simplicity, collegiality, cooperation and fun."
Friends and colleagues can read about his first-hand experience in a book he co-authored called, "The Early Years at USF Morsani College of Medicine." It was published in 2018.
"I realized how important it was to document the history, and nobody had recorded our history, so I decided I would do it," he said. "I asked colleagues who were there at the beginning to write a chapter for the book. Many people don't realize that USF has grown exponentially."
Richard wrote the preface for the book, which reflects on the period from his first days at the university all the way through modern medicine and technology.
He said it's interesting how much medicine has changed, and in some ways, although modern medicine has advanced much through the latest technologies, the system itself is failing.
"Today, rounds are done totally differently," he said. "Most of the time is spent at the computer, not bedside. I personally feel this leads to less-than- optimal care for patients. It's almost incomprehensible, and I don't know how it can be rectified."
He said many physicians are spending up to two hours each evening trying to keep up with the mandated electronic medical records.
"Most of us in my generation know that the practice of medicine was much easier and more rewarding in earlier days when there was much more collegiality among physicians and other healthcare professionals."
Richard believes it might be a good idea to turn back to simpler times, when a complete and detailed history and physical examination for each patient was the mainstay of medicine.
"Today, the history and physical have become secondary to a host of often randomly ordered laboratory tests and procedures, many times in the hospital or emergency room, driving up healthcare costs. The computer has made the doctor into a technologist and not a physician. He/she has to record everything in order to get paid. I'd like to write a book on what I feel is wrong about medicine today."
Richard was instrumental in helping get a veteran's research building at the USF campus. A hard-copy book about that project was published last year, which was underwritten by Richard. The book was originally published in 1997 and is called "Promise Fulfilled: The Silver Anniversary of the James A. Haley Veterans' Hospital."
Dr. James Ingram (a colleague) introduced Richard and Carol to Boca Grande in 1973. Ingram owned a home on the island and invited them to visit. A year later, they purchased two lots and had a home built off of Gasparilla Road.
When he is not working, Richard loves to fish and enjoys catching snook and redfish.
Richard and Carol have five grandchildren: four boys and a girl.
Their son Brian is an English literature professor at St. John's University in New York, and Keith is a computer science professional in Palm Harbor, Florida.
"They all love to come and visit Boca Grande," Richard said. "If heaven is anything like this … that's where I want to go. I'd rather be here than anywhere else – and I've been all over the world."
When asked what he likes most about living year-round in Boca Grande, Richard said it's a myriad
of things.
"The people are wonderful and the facilities here are incredible … it's just an unbelievable place."