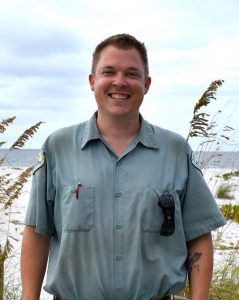 ■ BY SUE ERWIN
There's a hardworking, friendly new park ranger at Gasparilla Island State Park. David Allen's most recent project was filling in the dreadful potholes surrounding the entrance to the park. The area is now smooth and ready for seasonal residents and guests.
David grew up in Sodus, New York, a small town in upstate New York between Rochester and Syracuse. After graduating from high school, he joined the United States Marines and served for several years in administration in Paris Island. He did so well on the entrance examination that he was able to choose his duty station.
"I worked for the recruit training regiment," he said. "I was in charge of the day-to-day planning."
David's mother lived in Cape Coral, which is what brought him to Florida in 2005. He enrolled in Florida Gulf Coast University in Fort Myers and earned a bachelor's degree in business and marketing management.
He worked in the garden center at Target Department Store in Port Charlotte while attending college, and he purchased a home in Port Charlotte after completing his education at FCGU and getting a job as a banker at Wachovia Bank. He eventually became a bank service manager at Wells Fargo Bank.
"I was there for the transition, and after a few years I decided to make a career change and went to work as a customer service manager for Winn Dixie in North Port."
With a variety of background experience, David realized he wanted to work outdoors, and when he heard about the vacancy for a park ranger position from a friend, he applied.
"In college, I always took environmental courses for my electives, because I've always been interested in ecological systems and I love nature," he said. "And I am very customer-service oriented, so I figured this position would be a good fit."
And as it turns out, his inkling was right.
Even though it took several months to get a job offer, he patiently waited, and is now enjoying his position at Gasparilla Island State Park.
"I think being a veteran helped," he said. "Bill and Rick (park rangers) are both veteran's also, and I think they took that into consideration."
As a Florida State Park ranger, David is responsible for the physical upkeep and maintenance of the parks, as well as removing and turning the park fees in to the administration. He said he is looking forward to interacting with the guests of the park during season. He's also looking forward to working with Barrier Island Parks Society and the programs they host for the public.
"I love my job," he said. "Although my background is very diverse, I'm still learning the job. There is always something new to learn. Bill, Rick and Joe have all been very helpful. We work as a unit and make a great team."
Currently, David is splitting his workdays between Gasparilla Island State Park and Stump Pass State Park.
"I'm helping out there until they find a replacement for me at Stump Pass, and then I'll be here full time,' he said.
The parks system relies heavily on our volunteers.
David said the newly organized Friends of Stump Pass State Park organization has an active season planned, and members are excited to do some updates at the park.
One dangerous thing he has learned since he started working as a park ranger is that there are several kinds of poison ivy, and he is highly allergic.
"There is a vine type and then a kind with shiny leaves … so I just have to be careful and pay attention."
It's also extremely dangerous to burn poison ivy.  Breathing in the smoke and fumes of burning poison ivy can be terribly caustic to the lungs, which he unfortunately learned when he was a kid.
David met his wife, Vicki, when the two worked together in Target in Port Charlotte.
They were married in 2015 at the First Baptist Church of Boca Grande, located at the corner of Park Street and Gilchrist Avenue. Pastor Gary Beatty officiated at the service.
Vicki is an admissions representative at Southwest Technical College in Port Charlotte.
Even before getting a job here, David and Vicki would come to the island to kayak and go to the beach and the restaurants
"My wife and I love this island," he said. "We like to come here during the off-season … The locals here are always so nice. The employees are all very friendly. It's a peaceful place to spend time."
Both of David's parents served in the United States Navy. He has two sisters, one older and one younger, and an older brother who works for the United States Department of Veterans Affairs and lives in Tennessee. The park ranger returns every October to visit his father in Sodus.
"Fall is my favorite time of year up north, and it's what I miss the most," he said. "Sodus is a farming town, and there are apple orchards everywhere — it's a great place to go in October."
David and Vicki do not have children yet, but they have three rabbits and two cats.
"The rabbits are all free range, so they all have their own rooms in the house, and the two cats we rescued are brothers, so they like to be together all the time."
When he is not working, David keeps busy with projects at his house. He also enjoys sports like kayaking and fishing, and trying new restaurants in the area.
"It took me a while to get used to saltwater fishing. It's very different than fishing in the lakes up north, but I have learned a lot from many of the local people who fish the back bay and the mangroves."
They enjoy visiting other state parks around the state of Florida, especially some of the cold springs during the summer months.
"We like the natural springs parks like Rainbow River and Crystal River, and we like to go tubing at the parks that are north of Tampa," he said.
Living so close to Charlotte Harbor, they also kayak in that area on a regular basis.
They also like to volunteer their time at local animal rescue centers.
"We love wildlife and enjoy going to the Peace River Wildlife Center when we have a day off together."