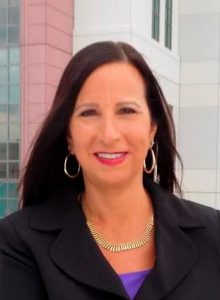 ■BY MARCY SHORTUSE
When Amira Fox turns onto the Boca Grande Causeway, she feels a sense of relief come over her that is well earned. She is the chief assistant state attorney for the 20th Judicial Circuit, which serves Charlotte, Collier, Glades, Hendry and Lee Counties, and her office heard more than 62,000 cases last year alone. She is a busy woman with a big family, but she loves the law and has made it her life's work. Still, a little Gasparilla Island downtime is always welcome.
"I was boasting about Boca Grande to someone who hasn't been here, and I told them they didn't know what they were missing," she said. "I start to feel so relaxed when I cross the bridge. Today we were just starting over and the phone rang, which kind of made me cringe. I decreed that when we drove back home I wouldn't answer the phone, just so we could all enjoy it."
Amira was born in Alexandra, Virginia to a father who worked for the International Monetary Fund and a homemaker mother. She loved the outdoors, and she went to the beach to sit and read every chance she got … a trait which eventually brought her to Florida. She also has a sister who currently lives in Alexandria and is a reading specialist.
"I don't miss the cold weather, but I miss the seasons, especially fall," she said. "That crispness in the air, the pumpkin farms, I really miss that."
Amira attended Fox Hunt High School in Alexandria, then attended American University in Washington, D.C., where she received her bachelor's degree in international studies and economics. Even though she started her college career in a completely different field of study, things began to shift with a life-changing trip to the store.
"When I was in college, my first purchase was a very small black-and-white television," she recalled. "It broke two weeks later, but I had purchased the extended warranty. I took it back to the store and they told me the fine print said the warranty didn't apply to that problem. I was already very interested in the law, but after going through that I realized if I was an attorney I could help other people who had the same problems. That was a turning point for me, and I decided to go to law school. It was part of the driving force that got me here."
When she first started law school, her primary interest was to learn how to read contracts and protect consumers, but with her degrees in international studies and economics she began to think about international law. In her first year of law school at George Washington University in Washington D.C., she was taking her standard course load, which included criminal law. She loved it, as well as constitutional law, and her interests started to change.
"I thought international law was all right, but my real interest was in criminal law," she said. "I tried out for something called the Moot Court Board, which highlights excellence in written and oral advocacy, and made it onto the appellate panel. That was a turning point for me, I realized I was good at standing up and making an argument. I also realized I wouldn't get to do that as much with civil law. By the end of the second year, my focus had changed completely to criminal law."
Amira received her juris doctorate in 1990. Just days later, on June 1, she put her car on the auto train and moved down to Florida, where she immediately started working as a prosecutor in the Lee County office of the 20th judicial circuit.
"I moved here because of the weather, and because I was offered my dream job to be a prosecutor who lived on the coast," she said. "The first offer I got that fit the bill was in the state attorney's office for the 20th judicial circuit, and my first assignment was in the misdemeanor division. Eventually I went to the juvenile division, then to the felony division, and then I started to learn how to do murder cases, first-degree murder cases and death penalty cases."
In the late 1990s she was promoted to running the Hendry-Glades office of the State Attorney, and in 1999 she was promoted to running the Collier County office, where she was the first female to serve in that position. She was there for a couple of years but eventually went into private practice for a time.
She returned six years later when Stephen Russell, our current State Attorney, approached her to come back to work for them as the deputy chief assistant. That job description included being the chief of the homicide, economic crime and public corruption divisions. She made the decision to return, and then four years ago, when the chief assistant state attorney retired, she took on that role.
Amira has been married twice, and she and her current husband, Mark, have a rather large family. Amira and her first husband, Lee County Judge Andy Swett, had two children, Drew and Alyssa. Almost 15 years ago she married Mark, who worked for the Collier County Sheriff's Office for 30 years, and he had two children: Matthew and Kaitlyn. She admits it was a Brady Bunch event when they all came together, and declares it was a very good match.
One of most defining moments in her career happened in the beginning, when she was just a young felony prosecutor. She was assigned to a serial rapist case in the early 1990s, prior to the law that requires offenders to serve at least 85 percent of their court-imposed sentence.
"This man had been convicted in a rape case in Miami, got out of prison early, then went on a rampage through Lee County," she explained. "There were many different victims, and each rape was very brutal and long. These victims had been through so much trauma, but because he always wore a mask, no one could identify him. With the last woman he raped, he fell asleep in her bed and she ran out of the house and called Florida Highway Patrol. They arrested him. But because she was the only person who could identify him, the result for her was not only did she have to testify in her own trial, but she also had to testify in all of those women's trials. Every woman testified for herself, and this woman testified in all of their cases. She was one of the bravest women I have ever met. She had a very strong influence on my career, and on my decision to pursue becoming the state attorney."
How did she feel after winning her first murder trial?
It's a great feeling when you win a trial, but any trial is difficult," she said. "You're dealing with families who lost a loved one. In that situation you become close to the family, and you know they're relying on you to do the right thing, to find some closure and justice. The best part of winning that case is going up and hugging that family when it's over. Most of them don't have unrealistic expectations, they just want to know someone is fighting for their family. Even if you lose, if the family or victim feels you did your very best, they can realize that the justive system decided it that way and they can move on."
To hear the statistics of her office is astounding. In 2017 the state attorney, including 120 assistant state attorney's, handled 62,000 cases. In 2016 that number was at 72,000. In 2015 it was 75,000. So, how does Amira account for the drop in the crime rate in the 20th  judicial circuit?
She believes it's all about balance: realizing the necessity of sending repeat, violent offenders to prison for a very long time (or life), while recognizing that there are different options for other offenders.
"There is a whole other spectrum of criminal defendants, many nonviolent, many who are first- or second-time offenders," she said. "Some are people with drug or mental issues, some are veterans with PTSD who have scrapes with the law. We send some offenders with drug problems to long-term residential programs, ultimately to get clean, and if they test dirty they're going to jail for awhile … but they're coming back out, and if they stay clean we will drop the felony conviction so they can get a job. If we don't do that with that majority of the population, they will often come right back. I think that has made us very successful."
In order to be a true "Minister of Justice," as she put it, Amira said they tell each assistant state attorney to look at the person, look at the record, look at what they did, then decide the right thing to do.
"We hammer that into our prosecutor's head, to look at every case individually," she said. "When you sign that piece of paper as a prosecutor, you have to be sure you're doing the right thing."
Where does she see herself in 20 years?
"At the end of an incredibly successful tenure as state attorney for the 20th judicial circuit," she replied after just a moment's contemplation. "Then I might move to Boca Grande."