Lewis William Morgan, Sr., 78 of Englewood passed away on Friday, Sept. 9, 2016 at Tidewell Hospice in Englewood.
He was born on September 18, 1937 in Guyton, Georgia.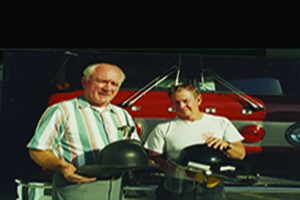 Mr. Morgan served in the US Army. He was a lifelong resident of Florida. Lewis was a firefighter for the City of Sarasota and retired with the rank of Battalion Captain. When he moved to the Englewood community he was the Fire Chief of Boca Grande from 1989 to 1996. He attended the Fellowship Church in Rotonda West.
He is survived by his wife of 52 years: Sandra K. Morgan; one daughter: Cindy L. (Jonathan) Spenger of Sarasota; two sons: Lewis W. Morgan, Jr. of North Port and Christopher Morgan of Port Charlotte, five grandchildren and one great grand-daughter.
A Graveside Service with Military Honors will be held at Sarasota National VA Cemetery on Monday, October 3, 2016 at 10:00 AM
In lieu of flowers the family requests that contributions be made in Mr. Morgan's name to The Comfort Connection, Englewood United Methodist Church 700 E. Dearborn St., Englewood, FL 34223.
Englewood Community Funeral Home has been selected to handle arrangements. You may share a memory with the Morgan family at www.englewoodfh.com