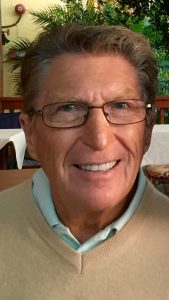 John Norman Grant Quirk passed away surrounded by his wife and children on August 22, 2016 after a courageous battle with cancer.
Grant was born in Montreal Quebec, Canada on February 26, 1937. Grant's mother died shortly after childbirth. At age nine Grant moved to South Portland, Maine with his father and stepmother. Grant attended South Portland schools and was a standout athlete, lettering in football, basketball and baseball.
After high school, Grant proudly served in the US Air Force. One of Grant's proudest moments was when he earned his U.S. citizenship.
Grant married his high school sweetheart, Beverly King of South Portland, and they had two sons: Stephen and Jeffrey Quirk, both of Scarborough, Maine.
After Grant's military service, he became the youngest manager of the Robert Hall clothing store in South Portland, Maine. After leaving Robert Hall, Grant became the national sales manager for the Songo shoe company and traveled the entire country.
In 1973 Grant met Lorry Lano who is the daughter of Jimmy and Hope Lano of the famous Lano's Restaurant at Cash Corner in South Portland, Maine. Grant's true dream was to own his own business and in 1974 with Lorry by his side they established Pine Point Market in Scarborough, Maine.
Grant and Lorry married on St. Patrick's Day in 1977. Grant and Lorry regularly vacationed in SW Florida and fell in love with the area. In 1981 Grant and Lorry gave birth to a daughter Kimberly Ann in Portland, Maine. Shortly after the birth of their daughter they decided to make Florida their permanent home.
In 1992 Grant and Lorry built their dream home on Knight (Palm) Island, where they resided until Grant's passing. They enjoyed island life and spending time on the water with family and friends.
Grant's entrepreneurship coupled with his adventurous spirit led him to a varied resume of businesses which included the Grog Shoppe in Sarasota, the Grove City Post Office, clam farming in Bull Bay and most recently Gill's Grocery in Boca Grande.
Grant was a very patriotic man and a man of great integrity. His family was of highest importance and he taught his children and grandchildren by example the importance of a strong work ethic, pride, compassion and love for one another.
Upon selling Gill's Grocery and retiring, Grant committed his life to volunteering and giving back. He was an Elder at Englewood Community Presbyterian Church and was devoted to his church family. He volunteered for the YMCA teaching children both in and out of the classroom. He also delivered Meals On Wheels which came with jokes and stories. Grant was a long time regular at the Englewood YMCA; he was committed to health and fitness and his gym friends.
Grant touched numerous lives and will be missed by many. Grant is survived by his wife of 39 years Lorry (Lano), his children Stephen, Jeffrey and Kimberly, and his five grandchildren: Erin, Jason, Mary, Meghan and Eric.
A memorial service will be held on Saturday, October 22, 2016 at 3pm at the Englewood Community Presbyterian Church followed by a Celebration of Life at the American Legion Post 113 in Rotonda West, Florida.
Lemon Bay Funeral Home is in charge of arrangements