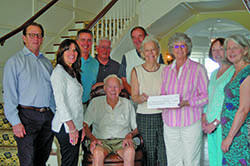 To the Editor:
Thank you to the Boca Grande Community.
The staff and partner agencies of the Harry Chapin Food Bank send our warmest thanks to all those who participated in the 2016 "Taste of Boca Grande." This event has celebrated 14 years of success in supporting the work of the Harry Chapin Food Bank in stopping hunger in Southwest Florida. This year the proceeds from the Taste event are enough to provide over a quarter of a million pounds of nourishing food to seniors, children, families and individuals in need in our Southwest Florida communities.
Unfortunately, hunger continues to be a reality in Southwest Florida. This past year the Food Bank distributed over 18 million pounds of food through our 150 partner agencies serving our neediest Southwest Florida families. Of that huge amount of food, over 6.5 million pounds were fresh fruits and vegetables gleaned from Florida farms.
The Harry Chapin Food Bank organization is very proud that 97 percent of every dollar raised goes directly to our program, with only 1 percent going to administration and 2 percent to fundraising. The Harry Chapin Food Bank is rated a four-star charity by Charity Navigator, the national nonprofit watchdog organization. Four stars is the highest rating given. Our work is only possible because we enjoy the services of more than 6,500 volunteers each year, who give us more than 53,000 hours of support time. This equates to more than $1,200,000 in in-kind service.
The Harry Chapin Food Bank is the only regional food bank serving Charlotte, Collier, Glades, Hendry and Lee counties. Each month, we help feed more than 30,000 of our neighbors, and over 50 percent of those are children and seniors. All of this is only possible because of public support and very special events like the Taste of Boca Grande.
The Taste event is the result of a dedicated group of local volunteers who contribute many hours of hard work to make this a successful and very special event. The Taste of Boca Grande committee members are Terry Bisset, Brian Corcoran, Kathy Hawken, Thor & Blanche Johnson and Nick & Helen Kaiser. We continue to be inspired by their faithfulness and dedication.
Again, thank you to the sponsors, restaurants and everyone involved in this outstanding event.
Joyce Jacobs
Associate Director
Harry Chapin Food Bank
Department of Health urges seasonal flu                         precautions