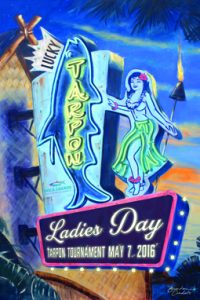 To the Editor:
The Boca Grande Area Chamber of Commerce's 26th Annual Ladies Day Tarpon Tournament had a successful outcome with a field of 36 boats and 11 total tarpon released on May 7, 2016.
Brendan Coudal designed the 2016 Ladies Day logo and the tournament art again this year. A limited supply of his original art is on sale at the Chamber, available on shirts, posters and tumblers.
The Chamber of Commerce was fortunate to have many generous merchandise, media, awards, beverage and raffle donations this year. Thank you, Barbara Anne's Jewelry and Repair, The Boca Beacon, Budweiser-Peace River Distributing, Gasparilla Magazine, Venice Gondolier, Waterline Magazine, Englewood Bank & Trust, Englewood Glass and Mirror, 5 Star Plumbing, James Griffith Salon, Kevin Hyde – Parsley Baldwin Realty, BNT Liquor, Boca Grande Marina, Englewood Community Hospital, Hudson's Grocery, Photographic Imaging by Heidemarie, Safety Harbor Builders, Sisters Restaurant, The Temptation Restaurant, Italiano Insurance Services, Inc, Zen 1540, Boca Grande Outfitters, McHugh-Porter Builders, Inc., Dolphin Cove Café, Paradise Jewelers, Aqua Boutique, Boca Grande Trading Company, Reel Skipper Women's Fishing Apparel, Paradise Cove Properties, PJ's Seagrille, Swartz Therapy, The Seale Family, Inc. Realtors, Vino Loco Wine & Tapas Bar, Zydeco Grille, Special Effects, FISHY ITCHY, Eagle Grille & Millers Dockside, Marla Clayton, It Works! Distributor, Shantelle Porack with Isotonix, Smart Studio, Casuarina Charters, Lolablue, LLC, Kris Boyden, DO Nails, Grapevine Gourmet, Glass by Gale, Palm on Park, Salt Gear, Noy's Bistro and Lounge. The Chamber of Commerce would also like to recognize the officials and volunteers for their commitment and expertise: Head Judge Sandy Bylaska, Lucy Guadioso, Richey Edwards, Austin Kopp, Justin Davis, Amy Prestia, Cappy Joiner, Sally Joiner, Dennis Oller, Pam Oller Debrun, Randy Clay, Edd Kopp, Dave "Smitty" Smith, Brian Jaeggi & Rich Caccavale.
Thank you to all of the tireless volunteers, businesses, judges, artists and individuals who made this tournament possible through their generous donations, sponsorship and support. A special thanks goes out to the many volunteers and sponsors who dedicated their time and services to the tournament. Without a strong and supportive community, the tournament would not exist. Thank you Englewood Bank & Trust for the numerous volunteers who have helped organize and support this tournament for the past several years. The committee is currently accepting art for next year. Deadline is Monday, Aug. 1, 2016.
For more information, contact Melissa at (941) 473-4506 or email mllaterza@ebtfl.com. The 2016 Ladies Day committee is proud to be a part of a community that helps the Chamber to give back to a charity every year. Support like this allows the Chamber to donate a portion of the proceeds to the Family Promise of South Sarasota County, a local nonprofit organization that seeks to help families and minor children who are in temporary need of housing.
Melissa Laterza,
Tournament Committee Director,
Amy Prestia, Candy Brooks, Kerry Hunter