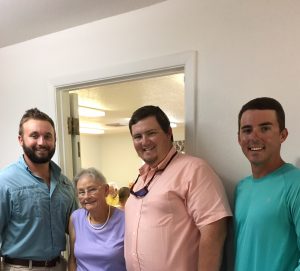 Long-time island resident Zelma Otto reached her 90th birthday recently, and it was celebrated by many at the Rotonda Lakes Clubhouse near her home.
She was all dressed in purple for the occasion and got to spend some time with three of the island boys she helped to raise – Seth Joiner, Parker O'Bannon and Dylan Jansch. Back then she was the tallest one of the group, believe it or not.
Zelma grew up on the island and took care of many children here.
"It was a beautiful event. My kids really did a great job putting the party together," Zelma said after the party. "My grandkids catered it, and it was just lovely. After the party, Mary O'Bannon let us use her house on the island, and it was so nice to see everyone together – it actually turned out to be more of a family reunion. Several families from the island attended the party, many of whom I used to babysit when they were kids. They brought their children along. It was just a beautiful day."
Photos provided by Mary O'Bannon and Craig Otto