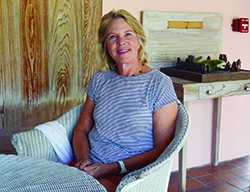 BY SUE ERWIN – Boca Grande resident Priscilla Masselink grew up in Maine and moved to the island with her husband, Mark, in 2012.
She met Mark while attending college in North Carolina, and the couple will be celebrating their 35th wedding anniversary this June. They plan on spending their special day in Scotland.
"We both like to hike and enjoy golf. It's been on our list of places we've wanted to see for a while," she said.
The couple has three sons: Jack, who lives in Houston; Ben, who lives in Boston and Parker, who lives in New York City. All three sons came to visit their parents for Christmas here in Boca.
Priscilla and Mark lived in North Carolina for a while and then moved to Chicago. Thereafter they lived in Connecticut for 27 years.
Mark worked in the finance field and Priscilla worked in the travel industry for a while. Her parents had a travel business in Maine, where her father was the Director of Tourism for the State of Maine.
"My college degree was in French literature, which makes it very handy for me to order from a French menu," Priscilla said with a smile.
She stayed busy raising her three sons and worked as a volunteer, including acting in community theater productions.
"I wanted my children to see that I was involved in other things and wasn't just a mom – I think it's important for kids to see and understand that," she said.
Several years ago, Mark spent some time with friends on the island tarpon fishing, and that's how they became familiar with the town.
"After he was here, he suggested that I come along next time and check it out," said Priscilla. "He thought I'd really like it. So I came down for a holiday, and it was a very rainy, dreary day. We walked into Michael Saunders and met with a Realtor and looked at several properties the next day. And the very first place we saw, we knew right away we wanted it and made an offer," Priscilla said. "Now we live in two little pieces of paradise – here and on the coast of Maine."
While they were here vacationing, they saw a performance by the Royal Palm Players, and Priscilla said she was quite impressed at how professionally done it was for such a small community.
"They've been very fortunate to have directors and stage managers with a vast amount of experience, and they bring a lot of quality here," she said.
Priscilla was involved in regional theater in Connecticut, and after moving here in 2012, she found herself getting immediately involved with the local Royal Palm Players.
"That's one of my passions," she said. "I was very lucky to get cast in a couple of different productions the first year I was here."
Priscilla said the success of the RPP has gotten even more people involved. And while she enjoys taking on a variety of roles, she usually prefers comedic ones.
"I did a little project with my neighbor, and we co-directed an Arm Chair Theater (ACT) show. There are two shows: The first night is for the sponsors of the season, and then the second night it's open to the public," she said.
The show consists of a half-hour one-act play read from arm chairs, which is how it got the name.
"I loved doing the Arm Chair Theater – that was really lot of fun. I am interested in doing more of that in the future as well as acting," she said.
She was asked to be on the Royal Palm Players board about a year ago.
"It's been wonderful to be so involved with the organization and to help plan for the future of it," she said.
In addition to being involved directly with the theater, Priscilla said the Woman's Club gives a grant to the Royal Palm Players each year to work with the island children.
"There is a drama club at the school, and last year we started an improv class for the kids. It has been so much fun – the kids are so cute, and they love it. And this year it is twice as big. We try at the end of every school year to do a big production for the parents."
Priscilla mentioned that island friends Cheryl Schum and Erica Martin helped start the improv class at the island school last year, and she feels lucky to be involved.
The class meets once per week throughout the school year.
"Improv is more 'games-oriented,' and we thought the kids would really get into it and they did. At their age, they have no inhibitions and they are so natural at it."
Priscilla said she panicked a little bit about moving to a new area, so she began searching out the many community groups that are available.
"That's when my neighbor mentioned the Woman's Club, and I decided to get involved with that," she said.
She is also a member of the Garden Club.
And to stay even busier, she took a watercolor painting course at the art council and found that she enjoyed that very much.
"I enjoy whimsical painting. I had a wonderful teacher in Connecticut, and we did a lot of fun projects."
Priscilla and Mark enjoy playing golf and like to spend time at Coral Creek Club.
"It's beautiful and gorgeous and the wildlife around is spectacular. And the people are very friendly – we've met many good friends there. And coincidentally, the Pro there is also from Maine," she said.
Priscilla and Mark have a small fishing boat and enjoy getting out on the water as much as possible.
"It's a different perspective from the water. You get to see all the sea creatures. And I think if you're going to be out on the island like this, you should definitely spend time on the water."
The couple also enjoys going kayaking.
"It's good exercise, and you get to see much more being so close to the water," she said.
Mark left the finance field several years ago, and the couple built a summer home back in Sorrento, Maine.
"My husband doesn't like to use the word retire – there's a term we use up north called 'rusticate,' which basically means how you choose to spend your time," Priscilla said. "So now we spend our time here, as well as some time in Maine, to enjoy different activities during the cooler months."
Priscilla said one of the draws of living in Boca Grande is that there are so many wonderful people she has met from Maine and many who have ties to the state.
"So that kind of gives you an automatic connection," she said. "It feels like home here. Some good friends of ours from Sorrento, Maine just recently bought a place here, so it will be nice to have friends from home so close."
Priscilla added that a number of people play croquet in this area, which is also a popular interest in her hometown in Maine.
"Some of the people from up there actually travel here to attend the tournaments," she said.
She added that Mark entered a tournament in Sarasota recently and made it to the semifinals.
"We love living here. For being such a small island, there is so much to do and so many things to get involved in. It has everything a big town has to offer, but it's very concentrated. You could do something different every single day."