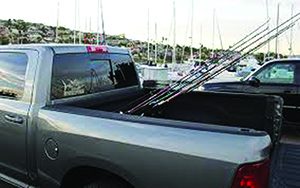 The small community of Boca Grande is wrapping up its most busy time of the year: spring 2018! Many who call Boca Grande home during the late fall, winter and spring months are returning to their summer homes and their families. The Lee County Sheriff's Deputies assigned to Boca Grande wish you all safe travels, well-being, as well as a pleasant summer. We truly believe this was one of our more successful seasons providing the best service and public safety possible to the community.
Reflecting on the season, I'm very proud to report that the community remains a very safe place for people as well as their property. Boca Grande had very little criminal activity and no significant crime trends, so even as the number of visitors increases, our statistical crimes have not, and that is something to be very pleased about. The Sheriff's Deputies assigned to Boca Grande made a concerted effort to patrol the beach on a daily basis to keep a strong presence on the public beachfront and to address violations such as open containers of alcohol, which is a violation of a County ordinance, as well as other concerns such as animals not restrained by a leash.
We truly want to keep everyone safe, including their animals as well as the natural wildlife, which can conflict with one another.
The business district was a top priority to patrol, with a vested interest in keeping the roadways open for traffic to flow as unobstructed as possible. We need to keep these roads open for public safety and to make sure the Boca Grande Fire Department can maneuver their fire trucks unobstructed and as efficiently as possible when in need.
Tarpon season is heating up, with lots of fish reported in the Pass. With the fish come fishermen, and with them comes expensive fishing gear. The Lee County Sheriff's Office encourages everyone to take precautions to keep their fishing rods/reel and their tackle safely stored. While Boca Grande is a safe place, thieves have targeted this area during the tarpon season, specifically looking for tarpon fishing tackle. We also encourage everyone to call 911 if they witness anything suspicious, such as people appearing to be prowling, unlighted boats in the canal system or any other activity one considers of concern.
Proud to serve,
Lt. Jeff Corkhill