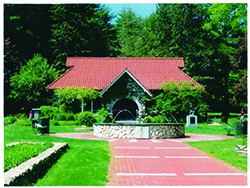 To the Editor:
In my hometown of Nashua, New Hampshire, we had a beautiful outdoor space known as Greeley Park. Bridal parties from around the area would come to Greeley Park to have their wedding pictures taken in front of the picturesque old stone building on the property (see photo at right). It put a smile on my face to think how many blissful newlywed photos were taken in front of this adorable building. A building that's sole purpose is to house the public restroom facilities.
You asked for suggested solutions to the lack of any public restrooms in the shopping district of Boca Grande. I have three, and I hope my 25 years in the retail business in Boca Grande qualify my suggestions for considration.
1) With the above example from my hometown in mind, an appropriate facility could be tastefully built in the middle of town at the Sam Murphy Park, which is already overseen by the GICIA.
2) Purchase the lot in between The Temptation Restaurant and the J. McLaughlin store. Have a design contest for an affordable and green facility to house the Chamber of Commerce and public facilities, as well as the possible addition of six to eight golf cart parking spaces.
3) From a conversation awhile ago with a long-time resident of Boca Grande came an idea I always thought was a perfect suggestion. Find an old train caboose and install it on the actual train tracks, next to The Loose Caboose. Revise the interior to accomodate a Visitor's Center/Chamber of Commerce and public facilities. This would accomplish the solution to the need of public restrooms in the center of the village as well as a tip of the hat to Boca Grande's history of visitor's arrivals to the island by train. This would be the newest photo op in town for visitors.
Thank you, Marcy, for your participation in getting this ball rolling and solving a problem merchants have been dealing with for years.
A very special 'thank you' to Gail Cleveland of Smart Studio, for writing the letter all of the rest of the merchants would have liked to have written.
This may seem like a problem that you might want to chuckle about, but when you're the person who represents Boca Grande and for the 100th time in a week you have to tell a customer in need that they have to depart from your store and walk 15 minutes away to the Community Center to use our only facilities … believe me, no one is laughing.
Please, let's solve this problem.
Lora Barmann
Boca Grande