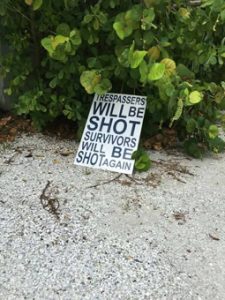 To the Editor:
I often wonder if some folks here ponder …
Now that I have purchased a very expensive slice of paradise, how do I make sure that I can get a little more for free?
On Gilchrist they do it with pretty flowers, flyers and false history. On 13th Street they do it with trash and a sign. A sign, given the recent events in our nation, that is possibly the most repugnant and inappropriate signage on the island to date. A sign that threatens people with death for using a public street.
It is a cowardly shield for the person who posted it.
A few weeks ago Jay Whipple wrote a letter to the editor talking about Gilchrist plantings and asking, where is the County? I would say to the County, clean up on 13th Street, please! It is obvious that taking away parking is not a resolution to the parking problem on the island. It is also obvious that this holier-than-thou attitude some residents exhibit has got to stop. It is an embarrassment to this island.
And, really, no one likes a snob.
I've said many times before that this enchanting island's soul is its inclusiveness. Every one of these ugly incidents sucks a little magic from our essence. What we islanders need to comprehend is that we can't do anything we want in an open society.
Skip Perry
Sarajevo
Planet Earth