A message from The Island School PTO: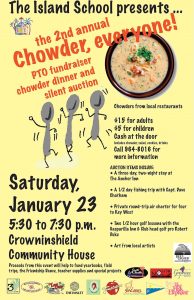 The 2017 Island School PTO chowder fundraiser dinner is in the books and was well received by the estimated 200+ in attendance on Saturday night at the Crowninshield Community House.
Money is still coming in from the silent auction as of the writing of this letter, but thanks to the generosity and support of the Boca Grande community, it is clear that the PTO will have once again met its needs to fund their budget for the upcoming year!
Thank you to all who contributed to and attended the event.
Hope to see you all again for next year's dinner!
Mark Teaney,
President
The Island School PTO