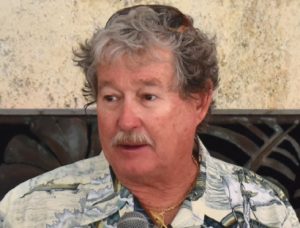 ■ BY SUE ERWIN
Capt. Van Hubbard remembers when catching fish in Boca Grande was pretty easy to do back in the day – albeit not nearly as comfortable as it is with today's modern amenities.
Hubbard is a local guide who has fished Florida waters from the Big Bend to Key West for more than 40 years.
The expert fisherman was the featured speaker at the Boca Grande Historical Society's "History Bytes" program on Wednesday, Feb. 20 at the Johann Fust Community Library.
Hubbard grew up in St. Petersburg, then migrated to Boca Grande in the early 1980s. He began fishing with cane poles, then worked his way up to commercial fishing – both hook-and- line as well as netting. He earned his captain's license in 1976, and since then he's been guiding offshore, inshore and backcountry charters.
"Families that explored and fished in this area in the old days paid a pretty big price… there was no hot water or air conditioning, and I imagine the 'skeeters' were fairly big and fierce."
He began writing for the Boca Beacon in the mid-1980s, and the desire to share knowledge kept him writing. He has also hosted a television series called "Let's Go Fishin'," a show that frequently featured Boca Grande. Hubbard uses his diverse experiences to help others understand and appreciate our fishing industries, heritage and traditions. He understands the need for conservation and management and works with Florida Fish and Wildlife, Florida Marine Research Institute, National Marine Fisheries and his favorite, the William Mote Foundation.
"My guiding career started out with a neighbor up in St. Pete. He wanted to impress his girlfriend, so he hired me to take him tarpon fishing in Boca Grande," Hubbard said.
He recalled that in the early 1970s, Interstate 75 did not yet exist.
"It's hard to explain what I-75 did for and to Boca Grande. Property values skyrocketed – it took hours to get to the island from St. Pete before it was built."
He and a friend anchored their boat near Englewood Beach in what was called "Ski Alley." He cast his line the next morning with very few people around, and caught four snook (the limit) within a few minutes.
"I was blessed. My grandfather and grandmother helped me get into fishing as a kid, and when you start out doing something at a young age, you develop a passion for it, and you put all your energy in to being as good as you can at it."
Hubbard had plans to move to Boca Grande at the first available opportunity. After winning a tarpon tournament in St. Pete in 1981, he soon received an offer he couldn't refuse.
"The job was to come to Boca Grande and live and fish on a nice, big 39-foot boat. I accepted the job immediately."
When he first came down, he tied up at Whidden's Marina.
"Isabelle was a sweetheart and helped me and so many others get their start in fishing. I was so blessed to have had the opportunity to meet the locals and eventually get accepted," he said.  "I tried to stay out of everyone's way and find my own clients. And 25 years later they decided I was one of them. It truly was a dream come true. When I came down to Boca Grande Pass in the late spring and summer, the Pass was literally alive with silver kings – especially on a full moon in June. When that tide changed, I can remember that as far as I could see, tarpon were frolicking and playing in every direction. Thousands of them. It's etched in my memory, and it's something I'll never forget. I doubt I'll every see it again – it was just unbelievable. "
Hubbard still guides, but more than that he enjoys sharing the fishing experience with newcomers and children, exposing them to the wonders of our great outdoors.
"Family Fun Fishing" is how he puts it. He is thankful to all the fishermen who helped him master his craft so he can share it with others.
He loves to take kids fishing and teach them how to respectfully fish in Boca Grande.
Betsy Fugate Joiner of the Boca Grande Historical Society introduced Hubbard to the crowd, and said she recalled participating in one of the early 'Let's Go Fishing" shows. She said she still has a copy on an 8-track cassette tape.
"He has a million stories about fishing in Boca Grande, and we're fortunate to be able to hear him speak about them," she said.
Hubbard moved here full-time in the spring of 1983. Although it's hard to believe, there was not one inshore or backcountry guide at the time, just tarpon guides.
"Nobody at the time knew anything about fishing with white bait: minnows and sardines, otherwise known as snook candy."
Hubbard said Boca Grande allowed him to live his dream.
"Our traditional tarpon fishing is truly an art form," he said. "The Futches, the Joiners, the Colemans … to name just a few … made my life a lot easier and allowed me to fit in. I earned their respect catching fish and working their methods."
Hubbard also talked about "Pink Gold" or Florida fresh shrimp, which we are all still lucky to enjoy today when the shrimp boat comes into Whidden's.
Water quality is another crucial thing Hubbard discussed.
"I know most people are concerned about red tide and blue-green algae. There is not any quick, easy answer … it's been around for quite a while," he said. And social media have been a nightmare for this most recent outbreak, because you have those who are paying attention, trying to educate themselves, and then you have people who are just trying to get their names and their faces out there, and they may not be sharing the truth."
Ending on a positive note, he said that the fishing is just starting to pick up out there, and the waters are warming up.
"Our afternoons lately have been much warmer than record highs, and everything is fixing to come to life. Unless we get some real serious cold weather, we're going to have some good fishing in the upcoming weeks."