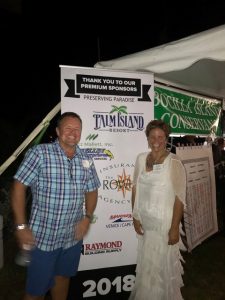 To the Editor:
Bocilla Islands Conservancy Inc. would like to thank the community for the success of its second annual Preserving Paradise Auction that was held on Sunday, Nov. 10 on Don Pedro Island. The auction is the Conservancy's largest fundraising event of the year, with over 200 residents attending and significant participation by local businesses.
Proceeds are estimated to double that of the previous year. The list of event sponsors was impressive.
The organization is very appreciative of the following Boca Grande sponsors: 3rd Street Bistro, Grande Aire and Kappy Karts.
The Placida Grill catered dinner, and Lemon Bay High School students served island-made appetizers.
Bocilla Islands Conservancy Inc. is a nonprofit 501(c)(3) charitable organization dedicated to the long-term preservation of green space on the Bocilla Islands chain. Through the acquisition of land, conservation easements and environmental programs, it protects and preserves natural resources and wildlife habitats on Don Pedro Island, Palm Island, Knight Island, Little Gasparilla Island and Thornton Key.
Last year's auction enabled the Conservancy to purchase and place a conservation easement on a beautiful corner lot on Don Pedro Island. Through volunteer efforts, the Conservancy is clearing the lot of invasive plants and trees. The lot hosts a half-dozen active gopher tortoise burrows and will be planted with native trees, shrubs and flowers. This parcel, and others under easement on the islands, will host interactive educational guides on native flora and fauna for homeowners, visitors and schoolchildren.
The next major fundraising event is this March – the Conservancy's "Betting on Paradise" casino night.
Shannon Roberts
Bocilla Islands Conservancy