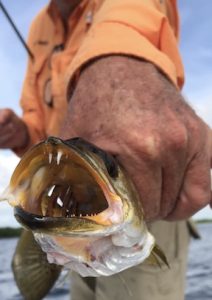 ■ BY MARCY SHORTUSE
At about 9:30 a.m. on Tuesday, Oct. 2 there were no boats to be found on Whidden's Creek except one, holding three anglers out looking for clean water and a good bite: And we found it. Capt. Sandy Melvin was our guide, in a quick little Maverick with a shallow draft. He had made us a promise just the week before.
"What if I told you I could take you out fishing in the back water around Boca Grande and you would never know there was red tide around?" he said. I was more than a little incredulous, feeling disheartened after months of red tide.
It's been a hard road for many since red tide hit us full on in June, and news reporters and fishing guides have become a little gunshy to say anything one way or the other lately … whether it's the truth or not. But if everyone is mad at you anyway, you might as well tell the truth.
We took off from Whidden's Marina, headed up the Bayou and then across Big Flat. The water there had no smell, and a brisk wind was coming from the northeast. Around Devilfish Key the water started getting clearer and clearer, and soon we were able to see a large amount of healthy sea grass at the bottom. By the time we got into the north basin of Whidden's Creek you could easily see to the bottom, and the sea grass was substantial and healthy … and so were the fish. In some parts of Bull Bay the water was nervous with baitfish, and not long into our second stop angler Jennifer McLaughlin had a good-sized speckled trout on the line.
From there, the trout kept coming. Sandy caught a very good-sized, healthy snook as well. If every fish that struck our lines had been brought to the boat, we probably would have had about 15 total.
"The snook in these waters are a little more solitary," Sandy said. "They are scattered and roaming, but they are definitely there. Boca Grande back country fishing is still good."
The day after, he and his clients brought about 10 snook to the boat, and about the same number of trout.
Sandy not only fishes this area, but he is a frequent competitor in bass tournaments on Lake Okeechobee, where fishing guides are also having a hard time this year. It's not because of the water quality, he said, but because no one realizes that Lake O is still full of healthy fish.
"Everybody thinks the lake is polluted, but we just did a tournament last weekend where we caught a nine-pounder, three seven-pounders and five more within two hours," he said. "We got first place in a tournament competing against 70 boats."
The tarpon are biting as well
Capt. Chuck Jenks took Australian television personality Rob Paxevanos out fishing last week, and the bite was on fire. In the waters of Charlotte Harbor, including just behind the Gasparilla Inn & Club Golf Course, they chased snook and redfish on the flats, caught a whole mess of trout, and a whole bunch of frisky tarpon.
There were 38 tarpon jumps between three boats on September 25, and more than 30 trout in one afternoon, to be exact. One angler in the film crew, Andy Warton showed a video of him simply casting out and having a trout leap right on the line. "It was great fishing out there," he said. "We definitely made some memories."
Jenks, as well as Melvin, have been constant proponents of fishing in the flats, creeks, basins and the Harbor for the last few weeks.
"I don't have the luxury of fishing tourist trips too often, 90 percent of my clientele come to Charlotte Harbor and Boca Grande just to fish – they don't come to build sand castles or to sightsee," he said. "I have to grind through whatever weather and water conditions there are, or fish for fish that don't want to bite sometimes. I recently had clients who drove 16 hours to fish with me from Texas, and they were rewarded. Tarpon fishing isn't like any other type of fishing in our area, these fish move where they want and they feed when they want. The only way to catch them is to fish for them, you can't give up and go fish for anything else otherwise you will never catch the silver king.
"The 2018 tarpon season has been off-the-charts good, I had more 20-fish days this season than I have ever had in my career. The tarpon fishing remains strong, and it is sad to see people who have zero ties to our area or fishery degrade it. Our fishery is fantastic, red tide is a natural unfortunate algae bloom that we have to deal with."
Jenks said the film crew also had a pretty spectacular seafood bake at Range Light beach, with some help from Kevin Hyde and Chef Kevin Stockdale of The Temp. That night, the beach was quite tolerable.
Snook and reds get a break
Capt. Phil O'Bannon was born and raised in the Boca Grande area, and he has seen a lot of red tide events. He admits that this one has lasted longer and has been more devastating than one he's seen before. In the last two weeks it got to a point that he called Eric Sutton, Florida Fish and Wildlife Conservation Commission executive director, and Commissioner Bo Rivard. Phil knew the depletion of several species of fish in our estuary were severely depleted, and that something needed to be done.
"We asked them for an emergency closure, particularly on snook and redfish," he said. They're hit the hardest, the primary recreational inshore fish caught are snook, redfish and trout. Trout came up in this meeting, but they aren't going to address closing them right now. They might in the future."
Phil said all the reports he received, and what he saw, showed the loss of a tremendous amount of large, brood-stock snook. The redfish population has already been in decline over the last few years.
Now snook and reds are catch-and-release only until May 10, 2019 in Pasco, Hillsborough, Manatee, Sarasota, Charlotte, Lee and Collier counties.
"We all know these fish stocks need to make a comeback and to a point where we can have a limited harvest again," Phil said. "I'm hoping the FWC will put together a tagging program to get an accurate count of how many fish are taken out of the estuary in the future."
The FWC, Mote Marine Laboratory & Aquarium, and other local agencies will be working together to get some hard data on fish numbers together. In May they will re-evaluate the situation and see where things stand.
"The big thing I'm hearing from guides is that their customers would rather catch a dozen fish and throw them back than to catch one and keep it," Phil said. "And I know they're working hard to find out more about this red tide, and possibly how to control it."