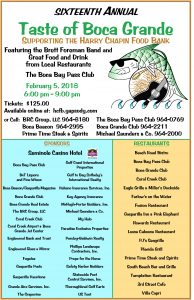 ■ BY MARCY SHORTUSE
This will be our last segment of our three-part "Taste of Boca" series this year, because on Monday, Feb. 5 we will be feasting! Make sure to buy your tickets today if you don't have them, and if you read this over the weekend they may already be sold out of tickets.
The coordinators of "Taste" have generously donated tickets to all of our island firefighters, EMS and law enforcement personnel this year, and it's not the first year they've done that. We just want to thank them for recognizing our first responders, as they are so very valuable to the community.
Keep in mind, not only will you be sampling some of the finest fare around from 17 local restaurants, the Brett Foreman Band will entertain you as well. Band Leader Brett Foreman and his musicians have one of the most highly-sought bands to play throughout the state of Florida, and their style is considered to be "hip, organic and high energy."
We only have five remaining restaurants to bring you this week, including our island's own Fusion, South Beach and The Temptation, as well as Placida Grill and Villa Capri so let's talk about …
The cheese of the goat is smooth and mild,
The sliders and cheesecake will make you run wild.
With some scallops of bay and caramel Crème brulee,
You'll throw caution to the wind and live for today!
Chefs Osmar and Mimi will feed you up well,
With crab margarita so good, full of tears your eyes will swell.
And gumbo so good, your mama you'll slap,
(and I sound like Yoda attempting to rap).
Chef Kevin brings bisque with much shrimp and crab,
Pork bellies and cabbage and gelato will be had.
From Villa Capri comes that favorite dish tried and true,
It's sausage and peppers … we love that, don't you?
Fusion
Chef Tim Spain
964-4443
Caramel goat cheese; beef tenderloin sliders with soft pretzel bun, with microgreens and Florida oranges; Almond Joy cheesecake for dessert
If you've never been to Fusion, located in The Courtyard at the north end of the island, you have to go. They have an interesting menu, frequently have live entertainment (and more recently had a dance competition) and people love it. As I was reading their reviews on their Facebook page one man claimed, "Great wait staff … the sushi was great and the mulligatawny was excellent!"
I thought, "What even is mulligatawny? It sounds fancy!" It's not on the Taste menu so I refrained from looking it up at the moment of this writing, but I will figure that one out eventually.
Chef Tim Spain will be bringing the goods to Taste this year, make no mistake. Caramel goat cheese with beef tenderloin sliders on a soft pretzel bun with microgreens and Florida oranges? Yes, please!
When you go to research "cheese of goat history" on the interwebs, oddly enough there are an endless amount of entries. Of all the things I have researched this year for the Taste menu, I can say goat cheese outranks them all as far as a plethora of information available. Why that is I can't say, but I can speculate that in many countries goats are some of the most common farm animals that produce meat and milk, and to be able to procure something with good protein from an animal without having to kill it for meat is a really good thing. They can also live pretty well in very arid regions, even the desert.
Did you know the goat is a legendary animal, and was very important to the ancient Greeks? It's true, they equated the goat with thunder, and it is said that when Zeus was fed goat's milk as a baby it became the food of the Gods (I thought the food of the gods was pork tacos, but maybe I'm wrong).
Goat cheese was first documented in 7,000 B.C. by prehistoric nomadic hunter sorts, and is known as the godfather of all cheeses.
When Charles Martel put a beatdown on the Moors in France in 732 A.D. the keeping of goats really took off, as they fed the common people well and … well, they're just cool.
While I've never had caramel goat cheese before, I believe the caramel gives the cheese a hint of dolce de leche, maybe? I mean, it sounds really good and it is cheese … cheese is always good.
I've never had oranges with my cheeseburger either, but why not? Chef Tim's beef tenderloin sliders will be served on a soft pretzel bun, which brings up another interesting topic of conversation – pretzels. Let's talk pretzels.
Did you know pretzels have been around since the Middle Ages? Around 610 A.D. some Italian monks were sitting around in the monastery kitchen one day and were trying to figure out a treat for their young students that wouldn't break their modest bank. They made some dough, and rolled it into ropes, then fashioned them into what looked like crossed arms. Back then that's how people prayed, they looped their arms up, apparently. The three holes in the pretzel represented the Holy Trinity, and the idea spread throughout Europe.
Pretzels are also a great food for Lent, as no meat, dairy or eggs are used in their making.
So how did they come to be known as "pretzels?" The word, many believe, originated form the Latin term "bracellae," which translates to "little arms." Germans broke that word down into "bretzel." Others believe the word came from "pretiolas," which in Italian would mean "little rewards," and that was what the monks called them. None of this is totally proven, but what we do know is that this snack that was once quite sanctimonious and spiritually as well as physically fulfilling is now served in bars with beer.
One last interesting fact in the pretzel vain: In 1510 when the Ottoman Turks were coming to invade Vienna, they did it by trying to dig tunnels under the city. According to history.com it was the monks who first heard the enemy coming, and they warned everyone else. As a reward the Austrian emperor gave the pretzel bakers their own coat of arms.
This small bit of dry, twisty dough has certainly had its place in our world's history, to be sure. Honor it when you approach it, pay homage to the pretzel.
To top of Chef Tim's savory offerings he will also be serving Almond Joy cheesecake, which, you can assume, contains coconut and almond somewhere about its countenance.
Here's the deal: You either hate coconut or you love it. It's hard not to like an Almond Joy, a candy created in 1946 by the Peter Paul Manufacturing Company in Connecticut. Its sister bar, Mounds, was created first in 1921 but somewhere through the years someone at the plant realized that almonds would be pretty cool trapped inside a Mounds, so that is what they did.
Sometimes you feel like a nut … sometimes you don't.
Placida Grill
(941) 828-1437
Chef Susie Gordon
Bay scallop;  salted caramel crème brulee
Since Placida Grill's move from their place next to Fiddler's Green into the spot Zydeco Grill used to have in the Ace Hardware plaza on Placida Road they have been super busy and been getting rave reviews. Everyone I speak with has a favorite dish there, and many go just to have drinks and enjoy the ambiance (I have heard tell there is some fantastic art on the walls, too).
Chef Susie Gordon has a simple but delicious recipe for Taste – Bay scallops. They are the smaller siblings of the sea scallops, and are known for being more tender and succulent. Bay scallops are usually found in shallow waters along the East Coast of the United States, and they are most commonly harvested in the fall.
Bay scallops are very cook looking, as they have many bright blue little eyes along the mantle of their shells, and often have tiny bits of seaweed growing from their surface that looks like little wisps of hair. I have been tempted to name my scallops more than once, I can tell you.
If you go to Wikipedia it will tell you, "Scallops are a cosmopolitan family of bivalves which are found in all the world's oceans," and that "They are one of the very few groups of bivalves to be primarily "free-living," with many species capable of rapidly swimming short distances and even migrating some distance across the ocean floor."
Some scallops choose to live on the side of reefs or rocks; others choose to hang out on the floor of their watery domicile. Remember, they're free living, man. L-I-V-I-N.
When it comes to crème brulee, one of the cardinal rules is to be stingy with the blowtorch (as it is with so many things in life). Crème brulee origins are hard to determine as everyone wants to claim it for its own. It sounds French, but some say it originated in Spain with the Catalans, and first record of it came around in the 18th century. The French version found from the 19th century is served cold and the custard isn't caramelized. The English claim they discovered it when Trinity College in Cambridge started burning the custard as a place to put their school's crest.
Just so you know, the name crème brulee is French, with crème meaning "milk" and "brulee" meaning "burnt."
And, for the record, both "burned" and "burnt" are interchangeable in this situation, although I find it impossible to use the word "burnt," used in example as "My trailer park burnt to the ground?"
No.
The best description of crème brulee I found was at a web site called saveur.com, and the writer, Gabriella Gershenson, described her experience.
"I still remember the first time I tasted creme brulee. I was 17 years old, and my parents had taken my sister and me on our first trip to Paris. We were budget-dining types, but there was one splurge – dinner at Fauchon, the gourmet food emporium, where our meal ended with creme brulee. What arrived was delicate custard in a shallow fluted casserole, topped with a sheet of burnt sugar. A firm rap with the back of the spoon and the crust shattered beautifully. Then, the soft custard yielded with almost obscene ease. What sublime contrast: Each bite, crunchy and smooth, toasty and lush, was a revelation."
If that doesn't make you want to eat some crème brulee, I don't know what does.
South Beach Bar and Grill
964-0765
Chef Osmar Orozimbo, Chef Mimi Carvalho
Crab Margarita: Lump crab tossed with the restaurant's signature Patron Margarita cocktail, served over a bed of avocado salsa, bib lettuce chiffonnade and diced tomatoes, accompanied by fried plantain chips; Slap ya' Mama shrimp gumbo: French Bayou brown stew with Gulf shrimp, fried okra, Andouille sausage, white rice and toasted French baguette
Before we get into any mama slapping let's ooh and ahhh over some crab margarita. This just sounds amazing, particularly since I'm a bit of a vodka snob and Patron is good stuff. Our two chefs will toss lump crab meat into the perfect Margarita mixture, then serve it with avocado salsa, diced tomatoes and bib lettuce chiffonnade.
Cutting the lettuce into strips, or shredding it in some circumstances makes Chiffonnade. The lettuce is then used as a garnish for a feature dish. The word comes from the French and it means "to crumple."
Bibb lettuce is part of the butterhead family of lettuces, as they have been known since the 1920s. Lettuce itself was found in Egypt back in 2,680 B.C. but it eventually became popular in Greece and Rome and, much later, in Europe. Butter lettuce is possibly a more modern family member of Silesia, another type of lettuce found in culinary writings from the 1700s.
It was Joachim Camerarius who published a horticulture book in the 1500s who categorized lettuce types, and it became more common on the average person's table between the late 1500s and the early 18th century.
Bibb lettuce is believed to have originated in Frankfort, Kentucky around 1870 when Major John "Jack" Bibb started sharing a variety of lettuce strain he created in his own garden.
The leaves of Bibb lettuce are known to be sweet … and definitely more so when paired with margarita dressing.
Chefs Osmar and Mimi decided to dress their crab margarita dish up with a few plantain chips on the side, so there's even more to look forward to.
Now on to slapping the mamas. It may sound like a very derogatory dish, but in fact Slap yo' Mama is a name brand of Cajun seasoning that is very well known and loved, and it is a Southern euphemism that takes more than a few aback when they hear it. After all, you're not supposed to do that, are you? Slap your mom?
It's different when you say it right. "My gumbo is so good it'll make you want to slap yo' mama." That means it's so good you're willing to take the heat on beating a family member. While some feel it's a frightening look into the mind of a southerner, it in fact is kind of like saying, "Bless your heart." It really means the opposite.
Gumbo is a true culinarian's pièce de résistance. You can find a man in the heart of the Louisiana swamp who never cooks a day in his life unless it's to make his grandmammy's gumbo, and his recipe is to just randomly throw ingredients in a big caldron over a fire … and it's the best thing you've ever eaten. You can take the finest chef in New York City in the fanciest kitchen known to man and tell him to cook a proper gumbo, and he can't do it. Gumbo comes from the heart, from the soul. It's knowing what time to add what ingredient, it's knowing just how long to cook it … so many factors come into play. South Beach gumbo is known to be amazing, so don't fret there. Chefs Osmar and Mimi have your back when it comes to the gumbo.
The Temptation Restaurant
964-2610
Chef Kevin stockdale
Seafood bisque with sweet Hawaiian red crab and rock shrimp; pork belly sliders with pickled red cabbage slaw; gelato bar with toppings
When The Temptation comes to Taste, everyone sits up and takes notice. If you've ever been walking downtown around 4 or 5 p.m. you'll know what kinds of amazing aromas emanate from that establishment, so much so they'll drive you crazy. Cooked meat is Chef Kevin's gig, he knows how to sear some flesh. While his pork belly sliders with pickled red cabbage are sure be out of this world, let's discuss for a moment his offering of seafood bisque.
The word "bisque" comes from the Bay of Biscay, and it is usually made from lobster, crab, shrimp or crayfish. What we crave so often now was once shunned back in its time of origination, as it was a poor man's food. Coastal people would scour the shore and waters for food sources, bring home pretty much everything in the net and put it in the pot. Even the shells of lobster and crab were finely ground and thrown in the pot as a thickening agent. When making her bisque once Julia Child even remarked, "Do not wash anything off until the soup is done because you will be using the same utensils repeatedly and you don't want any marvelous tidbits of flavor losing themselves down the drain."
Lobster, for instance, was considered such a common, lowbrow food that workers complained if it was served in the soup line more than twice a week.
Oh, to have those days back again.
In the 17th century bisque emerged on the culinary as more of a heavy soup, but it was originally more of a pottage dish.
As a totally random thought to throw into this, in my research I found an article about a lady named Holly Cantere from Honolulu who took a video of a 4.8-pound crab walking down the street in her neighborhood. "It just kept walking, like there was not a care in the world when it crossed the street. Everybody slowed down and treated it like it was a pedestrian."
Apparently Hawaiians give many props to their crab brethren, and who can blame them. They're gorgeous creatures.
Male Hawaiian red crabs can grow up to four inches wide, with females being a little smaller. They are omnivores, eating anything in their path, and they are considered to be an abundant species. These are the crabs you see taking over villages as they travel from one shoreline to the other, walking over cars, people and anything else in their way. So yes, there are a lot of them. Plenty for our bisque, thank you, and then some.
Chef Kevin's decision to create a little gelato bar at Taste is an extremely popular one. Gelato can be a great many things, but its deliciousness is consistent. Some people say the first known gelato was created from Romans licking volcanoes. Yes, you heard it here first, the Romans liked to climb up volcanoes Etna and Vesuvius, pluck the ice and eat it with honey. During the Italian Renaissance in the 14th century Bernardo Buontalenti let people know it was all right to eat crushed ice and sweetening agents without the threat of burning one's body into cinder, and in 1770 Giovanni Biasiolo introduced the treat to America.
So thank you, Chef Kevin, for not forcing us to burn our footsies on hot lava in search of a perfect dessert. We appreciate that immensely.
Villa Capri
(941) 697-1313
Chef Nick Mack
Sausage and peppers
Chef Nick Mack is bringing it old school to Taste with his signature dish of sausage and peppers. The irony of this is that you know out of all the crazy dishes people will go to this event to try, Chef Nick will have a steady group of devoted followers who just really want a nice salsiccia e peperoni.
Let us pry for a moment into the history of sausage. Who first decided to squeeze pureed meat into a casing of intestine, you might ask yourself. Well, the word "saussiche" in French comes from the word "salsus" in Latin that means "salt." Many centuries ago the daily consumption of fresh meat was unthinkable, particularly for the poor. They had to find a way to keep the meat they had from spoiling, so people salted it. Particularly on ships when journeys were long, salted meat was very important.
It is possible the first people to stuff an animal's flesh into its own intestines were the Sumerians, which makes perfect sense. This was around 3,000 B.C., but resident of China were found to be eating sausage around 580 B.C. as well. There is actually a Greek play called "The Sausage" that was found to have been performed around 550 B.C. but more than likely knowing them we shouldn't dawdle on that particular path of thought.
While most sausage casings now are not made from the animal's intestine, there are those who swear the only good sausage is intestine casing sausage. And for those who shudder at the thought of eating the Scottish dish haggis, do yourself a favor and don't look up the ingredients in that Ballpark Frank.
Here are two sausage facts you must know if you want to hang with the cook kids at Taste: 1) Sausages (also known as "bangers" in the UK) now have casings made from collagen (but don't rub them on your lips and think you'll turn into a Kardashian) and; 2) the record for the longest sausage ever made was 36.75 miles long, and it is held by a proud man named J.J. Tranfield of Sheffield, UK.
See you at Taste!