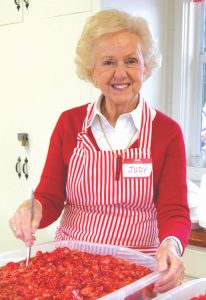 ■ SUBMITTED BY SUSAN HANAFEE
Twenty years ago the ladies of the Boca Grande United Methodist Church baked shortcake, cut up strawberries and set up a few tables under the trees by the old church to raise money for women and children in need.
Fast forward to Saturday, March 3 and the 2018 Strawberry Festival. Women (and men) are still serving strawberries and other goodies, but on a much larger scale to meet growing charitable needs.
"Last year we sold 1,000 strawberry shortcakes (with whipped cream)," said Pam Hannah, who co-chairs this year's Strawberry Festival. "And we raised $80,000 for charity. We hope to do well again this year."
Of course, strawberries aren't the only items for sale. Bargains – once a few pieces on a couple of tables in that shaded area – now fill the Crowninshield Community House. Jan Myers and Deb Houck, who are in charge of the bargain area, are asking for even more. Call Jan at 964-0562 for more information about dropping off donations.
Bake sales also grew over the years, along with crafts and homemade items. Hot dogs and brats became part of the men's "Grilling for God" effort. A boutique with nice items was added; a separate area for book sales; a bouncy house for children; dazzling jewelry digs and the live and silent auctions all became part of the fundraising effort.
Gloria Mitchell made a donation to the first silent auction. She serves as treasurer for the 2018 event. "My husband bought a coffee table with bronze dolphins from an Englewood artist," she said. "He loved it, but it took up the entire living room, so I told him it had to go."
The late John Goetcheus, who was instrumental in building the new church, bought the coffee table for $1,000 at the auction. He donated it to the church sacristy, where the pastor prepares for a service and where the table resides today.
"Although there will be no live auction this year, the silent auction will likely exceed 50 items donated by community businesses and generous individuals," said Lois Raedeke. She is co-chairing the Strawberry Festival and putting together the silent auction.
Used furniture sales at the Strawberry Festival received a big boost from the Boca Beacon, which began publishing the need for contributions before Christmas. Materials gathered by a team headed by Bo Hamrick have filled three storage units, with more to come.
"Back in the day we had about 30 people from the church involved," Pam Hannah remembers. "Now it takes several hundred folks from around the community to pull this together."
The festival will run from 9 a.m. to 2 p.m. on Saturday, March 3 at the Community Center grounds and in the Crowninshield Community House.