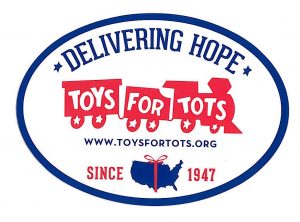 To the Editor:
The holiday season is rapidly approaching, and many families continue to struggle to provide their children with Christmas gifts. The mission of the Marine Corps Reserve Toys for Tots campaign is to collect new, unwrapped toys during October, November and December each year to make Christmas dreams for less fortunate children come true.
This year the Englewood Cape Haze Kiwanis is once again working in the Charlotte County and Englewood areas to fulfill the wishes of our children in need. Toys For Tots boxes have been distributed throughout Englewood, Port Charlotte and Punta Gorda in various business locations. We are asking you to join us in supporting the 2017 Marine Corps Reserve Toys for Tots program. The way you can help is to volunteer, contribute a new unwrapped toy or a make a monetary donation online.
This year we expect an even greater need and expect to once again have well over 3,000 children served through this annual program. To date, there's been a slow start in donating new toys, so we ask that you consider making a donation to the campaign today.
Don't let the magic of Christmas pass by the home of a single deserving child this year. Visit www.toysccfl.org to find a local toy drop location, sign up to volunteer, make an online credit card donation or sign up for a gift if your family is in need. Checks can be made payable to Toys For Tots and mailed to P.O. Box 487, Englewood, FL 34295. You will be amazed at how good it will make you feel!
Merry Christmas,
Erik Sandness
Coordinator for Toys for Tots Englewood
LETTER