■ BY SUE ERWIN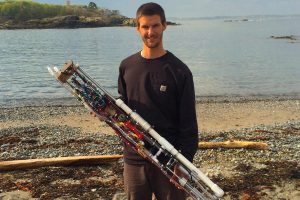 Ethan Edson, a marine scientist with Northeastern University, visited Boca Grande this week and coincidentally planned the trip around an Earth Day exhibition in Dallas, Texas. Edson will join a panel at the event tomorrow (Earth Day) to discuss plastic pollution in world oceans.
Using ingenuity, he developed a product called the MantaRay, a 3-foot microplastic sampling device with sensors that can be implemented on watercraft or attached to an Autonomous Underwater Vehicle (AUV) to gather diverse data. Edson's goal was to make an affordable device to track the dispersion of microplastics, defined as particles of plastic from microns to millimeters in size, that are becoming prevalent in oceans due to pollution.
He spent the summer after graduation working on tall ships from the coast of Cape Cod to Bermuda and down to St. Croix.
It was part of the Sea Education Association/SEA Semester program. The project was funded by a grant from Northeastern University.
"We were doing marine biology research, and I was also an active member of the sailing crew," he said. "So it was a very intensive hands-on 6-week program."
Every day at noon and midnight, marine scientists would drag a plankton net just beneath the water's surface.
"I was really surprised that throughout the entire trip, every net we dropped had plastic remnants in it — and this was 500 to 600 miles off shore," Edson said. "So it was a very eye-opening experience for me."
Most of the plastic fragments found were the size of a pencil eraser or smaller. His goal after that experience was to create an affordable sampling instrument to automate the process to get better information about the content of the pollutants. He built the low-cost oceanographic sensor and designed it so it could determine the concentration of marine microplastics over large spatial areas. The sensor can selectively remove plastic from seawater and archive it for later analysis. It's based on GPS positioning and records salinity and water temperature measurements.
"I was very fortunate to have the use of a robotics lab at the university to finish the project," Edson said.
Since graduating in 2015, with the help of a grant from the Schmidt family Foundation (named after former Google CEO Eric Schmidt), Edson is currently building another prototype half the size of the original. He hopes to eventually have them commercially made to aid in the study by making collection easier and more efficient.
"The extent of harm plastics cause is not yet fully known, though research suggests negative impacts to organisms that unwittingly digest it," he said.
Edson is visiting the island this week with his mom and his girlfriend, Brooke. They are staying with Brooke's parents (Patricia and Don Heaton) at the Boca Grande Club. Looking ahead, Edson is hoping to get a fleet of the sensors created to track greater areas of water throughout the United States and, with any luck, one day internationally. H
e hopes to be able to partner with Mote Marine Laboratory scientists in the future and continue his research work in Florida.
For more information, visit mantaraysampler.com