■ BY MARCY SHORTUSE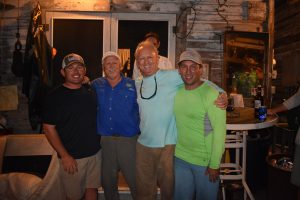 Capt. Sandy Melvin and his team aboard Boca Blue came out on top again this year in the 2017 Howl at the Moon Tarpon Tournament held on Friday, May 19 in Boca Grande Pass. Melvin and anglers Bob Melvin, David Kelly and Michael Foster had eight releases in the tournament.
Second place went to the team on Family Tradition, including Capt. Travis Joiner and anglers Mike McGuiness, Scott Clyne, Myles Moulton and Jesse Osborne. They had six releases.
Third place went to Capt. Willie Mills and his team of anglers including Clay Mead and Chris Hahn. They had five releases.
All 17 boats that fished the tournament caught at least one tarpon, with an average release time of 4 1/2 minutes.
The complete release list for the rest of the boats includes:
• Hey Moma!, Capt. Wayne Joiner: Five releases
• Faithful ll, Capt. Matt Coleman: Four releases
• Turnin' Tide, Capt. CJ Soderquist: Four releases • Outta Line, Capt. Blake Cheske: Four releases
• Jill Marie, Capt. Dave Chatham: Three releases
• Sweetwater, Capt. Randy Rhines: Three releases
• Miss Aubrey, Capt. Paul Wagenseil: Two releases
• Phil-Jack, Capt. Mark Liberman: Two releases
• Blaze, Capt. Waylon Mills: Two releases
• Squaw, Capt. Dan Snode: Two releases
• Miss Sarah, Capt. Lamar Joiner Sr.: One release
• Tsunami, Capt. Chad Bombenger: One release
• Searene, Capt. Lamar Joiner Jr.: One release
• DeJaVu, Capt. Dumplin Wheeler: One release